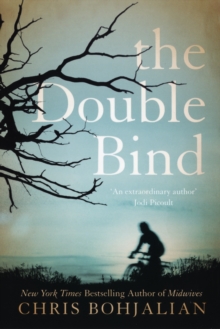 The Double Bind
Paperback
Description
When Laurel Estabrook is attacked while out riding her bike one Sunday afternoon, her life is changed forever.
She begins work at a shelter for the homeless and there meets Bobbie Crocker, a man with a history of mental illness and a box full of photos he won't let anyone see.
When Bobbie dies suddenly, Laurel discovers that he was once a successful photographer, and her fascination with his former life begins to merge into obsession, not least because some of the photos are of the very same forest trail where she was attacked and nearly killed.
Laurel becomes convinced that his photos reveal a deeply hidden, dark family secret.
Her search for the truth leads her further from her own life and into a cat-and-mouse game with pursuers who claim they want to save her.
Information
Format: Paperback
Pages: 384 pages, B-W photographs
Publisher: Simon & Schuster Ltd
Publication Date: 06/10/2008
ISBN: 9781847391933
Free Home Delivery
on all orders
Pick up orders
from local bookshops
Reviews
Showing 1 - 4 of 4 reviews.
Review by CasualFriday
16/06/2015
I'm on a Chris Bohjalian kick. The Double Bind follows his usual formula of mixing suspense with the "social problem" novel - think Jodi Picoult but with better characters, and much better prose. Here, though, he throws us a curve ball in the form of the latest schtick in genre fiction - mixing in characters from classic literature.One of the social problems in this story is homelessness. The protagonist, Laurel, works in a homeless shelter and becomes obsessed with a portfolio of photographs taken by one of her late clients. Before he hit the skids, he photographed the rich and famous, and apparently lived among them, too. Laurel discovers that her client has a connection with the rich and decadent Buchanan family of East Egg, New York. (For those of you who don't remember your high school English classes, Google it).As always with Bohjalian, this book is a well-constructed page-turner. It is not as emotionally affecting as Secrets of Eden, and has less sociological heft than Midwives, but it is a satisfying summer read.
Review by busyreadin
16/06/2015
Very interesting story of a young woman who becomes obsessed with the photographs taken by a deceased homeless man.
Review by readyreader
16/06/2015
Very clever plotting. I was completely taken in and surprised at the ending. The use of the Gatsby story was unique; sort of a "spin-off" of Fitzgerald's famous novel but years later. This is my first experience with Mr. Bohjalian's writing, and I am looking forward to reading another book soon.
Review by jayne_charles
16/06/2015
I was delighted to find a copy of this having read the excellent "Midwives". Like that earlier novel, 'The Double Bind' is well written with no pockets of inactivity. I always found it good company even in the shortest of reading sessions.The author has a noticeable way of introducing characters – they will remain just names, to be casually referred to, until such time as they matter to the plot, and at that point they will be given the full back-story treatment. It's workmanlike and very effective.The whole thing is tied up with the classic novel "The Great Gatsby", and it came as a jolt to discover in the early stages that this novel takes place in a 'reality' where the events of The Great Gatsby are as real as, say, the shooting of JFK, and in which living breathing descendants of the characters are wandering about. It took a bit of getting my head round. It's worth noting that if you haven't read 'Gatsby' but plan to, don't read this first as there are spoilers everywhere.My main problem with this book was the end. I guessed the main thrust of it, mainly because I had read the extracts of reviews included at the beginning of the book and on the back cover. They didn't mean to give it away, but because they all focussed on one particular theme they pointed me in the right direction. I'm having the same difficulty now – explaining what I didn't like about the novel without leaving spoilers. I hope it won't spoil it for anyone if I say it reminded me of a stick of candy floss – enormous until you get it in your mouth then it shrinks to nothing. Suffice it to say the critic quoted on the back page was right: "It packs a twist at the end that will leave you speechless". It probably will, but not necessarily in a good way.