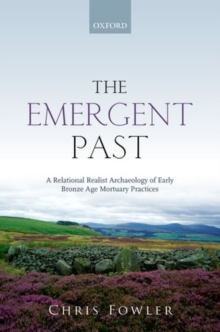 The Emergent Past : A Relational Realist Archaeology of Early Bronze Age Mortuary Practices
Hardback
Description
The Emergent Past approaches archaeological research as an engagement within an assemblage - a particular configuration of materials, things, places, humans, animals, plants, techniques, technologies, forces, and ideas.
Fowler develops a new interpretative method for that engagement, exploring how archaeological research can, and does, reconfigure each assemblage.
Recognising the successive relationships that give rise to and reshaped assemblages over time,he proposes a relational realist understanding of archaeological evidence based on a reading of relational and non-representational theories, such as those presented by Karen Barad, Tim Ingold, and Bruno Latour.
The volume explores this new approach through the first ever synthesis of Chalcolithic and EarlyBronze Age mortuary practices in Northeast England (c.2500-1500 BC), taking into account how different concepts and practices have changed the assemblage of Early Bronze Age mortuary practices in the past 200 years.
Fowler argues that it is vital to retain the most valuable archaeological tools, such as typology, while developing an approach that focuses on the contingent, specific, and historical emergence of past phenomena.
His study moves from analyses of changing types of mortuary practicesand associated things and places, to a vivid discussion of how past relationships unfolded over time and gave rise to specific patterns in the material remains we have today.
Information
Format: Hardback
Pages: 348 pages, 26 in-text illustrations; 14 maps; 6 charts
Publisher: Oxford University Press
Publication Date: 31/10/2013
Category: Prehistoric archaeology
ISBN: 9780199656370