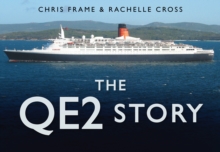 Description
There is no more famous ship in recent history than Queen Elizabeth 2. The flagship of the Cunard Line for most of her life, this legendary vessel wandered the world's oceans for almost forty years.
The QE2 Story offers a concise history of this, the greatest ocean liner of our time, from her construction, early life and various refurbishments, to her triumphant farewell and retirement in Dubai.
Events of historical importance, such as her service in the Falklands War, are described in detail. Complemented by memories of those who sailed aboard her, and brimming with interesting facts and photographs, this book chronicles the unending appeal of the QE2.