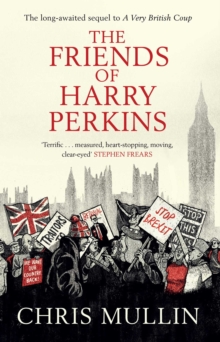 The Friends of Harry Perkins
Paperback / softback
Description
CONTAINS TWO NEVER-BEFORE-PUBLISHED SHORT STORIES: 'The Lord Cardinal' and 'The Man Who Shot the President' 'Harry Perkins was buried on the day that America declared war on China.' The definitive post-Brexit novel, and long-awaited sequel to the bestselling A Very British Coup. 'Brexit Britain was a gloomy place. True, the Armageddon that some had prophesied had not occurred, but neither had economic miracle promised by the Brexiteers. Instead there had been a long, slow decline into insularity and irrelevance. The value of the pound had fallen steadily against the Euro, the dollar and the Yuan. The much vaunted increase in trade with the Commonwealth had not materialised. The Americans, too, were proving particularly obstreperous. Even now after a nearly decade of negotiations no significant agreements had been reached.
At the UN there was talk of relieving the UK of its seat on the Security Council.' In post-Brexit Britain, the country's international standing is the lowest it's ever been, and social tensions have reached boiling point.
Fred Thompson - former aide to the left-wing prime minister, Harry Perkins - is determined to put things right.
As he climbs the political ranks, though, Thompson learns that principles must be compromised and dangerous bargains struck if he is to attain the only office high enough to truly make a difference. At once a gripping political thriller and a chilling prognostication of where we may be headed, this taut, insightful and engrossing novel is essential reading for our troubled times. 'Brilliant, chilling and all too plausible.' Alastair Campbell 'Terrific...measured, heart-stopping, moving, clear-eyed'.
Stephen Frears 'A very knowledgeable and pleasurable political thriller.' Mark Lawson, The Guardian 'Faced with the horrors of Brexit and a Conservative government overrun by dubious right-wingers .. . the beleaguered one-nation wing of the Tory party and even the tabloid press appear suddenly as a force for good.
One of the tantalising questions is whether they are really out to help . . .' Robert Shrimsley, Financial Times 'Brexit has been a catastrophic failure . . . Trying to undo it means confronting all the pent up frustration that led to Brexit in the first place.
This produces the deepest irony of all and the one that gives the novel its peculiar bite . . .' David Runciman, London Review of Books 'A book that seeks your X in the ballot box.' The Spectator 'The friends of Chris Mullin - and they are legion at Westminster - have been eagerly awaiting this book and they will not be disappointed.
A brilliant, topical sequel to A Very British Coup.' Andrew Adonis, The House 'Briskly placed . . . spartan . . . and most affecting.' Irish Times 'Excellent . . . a worthy sequel to a true classic of political fiction.' Matthew d'Ancona 'Mullin has the knack of pithy description, adding touches of colour and wit.' Glasgow Herald
Information
Format: Paperback / softback
Pages: 240 pages
Publisher: Simon & Schuster Ltd
Publication Date: 06/02/2020
ISBN: 9781471182501
Other Formats
Hardback from £9.35
EPUB from £4.99
Save 26%
Free Home Delivery
on all orders
Pick up orders
from local bookshops