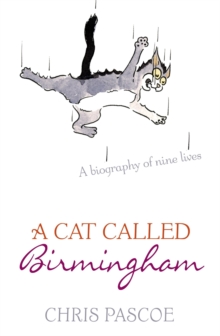 A Cat Called Birmingham
Paperback
Description
In the long history of mankind's relationship with felines, one cat stands head and shoulders below the rest.
Highly inflammable, the glass-jawed Birmingham lurches from one catastrophe to the next.
Through encounters with washing machine spin cycles to his lovelorn pursuit of the aggressively uninterested Sammy, Chris Pascoe's hilarious book paints an intimate portrait of the author's calamitous relationship with a cat wholly unsuited to being feline.
Persistently molested by an irate sparrow, physically incapable of negotiating the intricacies of the cat-flap and with a near-fatal appreciation of the effects of gravity, Brum nevertheless remains steadfast in his subconscious pursuit of oblivion.
Worryingly, these stories are true. Will nine lives be enough?
Information
Format: Paperback
Pages: 192 pages, Sabine Vittinghoff
Publisher: Hodder & Stoughton General Division
Publication Date: 01/09/2005
Category: Local history
ISBN: 9780340836071
Free Home Delivery
on all orders
Pick up orders
from local bookshops
Reviews
Showing 1 - 2 of 2 reviews.
Review by girlunderglass
16/06/2015
Hilarious, easy read. For anyone that loves/likes/doesn't <i>dis</i>like cats.
Review by elliepotten
16/06/2015
As a complete and utter cat woman with a devoted love for my current two feline little sisters, this book was well on its way to being a winner before I'd even finished the first chapter. With its fantastic sense of humour and superbly deadpan storytelling style, Chris Pascoe's cat memoir has now been firmly placed on my mental 'to reread when I need cheering up' list.As the name implies, this is a book about... a cat called Birmingham (or Brum, for short). Subtitled 'A biography of nine lives', it is a breakneck dash through Pascoe's experience of living with his adorably clumsy cat, and all the scrapes Brum has managed to get himself (and his owner) into over the years. I think anyone who has ever had a cat can find something to chuckle over here, even if their furry companions haven't been quite so accident-prone! Although one or two anecdotes have surely been embellished slightly in the telling (as most great anecdotes are) and there is a bit of still-amusing-but-not-particularly-relevant padding nearer the end that doesn't always feature Brum at all, I absolutely loved this book. The anthropomorphic nature of Brum's character reminded me very much of Deric Longden, whose books I've adored for years, and Pascoe's writing style is similarly self-deprecating, wry and charmingly affectionate. I found myself laughing out loud at many of Brum's exploits, whether he was falling off things or engaging in a war with a feisty local sparrow, and the chapter about his uncanny knack for setting himself on fire was almost impossible to read on the shop counter! There's no sad ending either - Brum was still (miraculously) alive and kicking when Pascoe wrote the book, so that was a relief. Seriously, if you're a cat person, read it. If you don't laugh out loud, or at least smile gleefully, at least once every few pages, there's a strong possibility that you may be dead. Now, if you'll excuse me, I need to order the next book, <i>You Can Take the Cat out of Slough</i>, and then I think I need to find one of my own cats and give them a big fluffy hug, just for being so damn awesome and NEVER catching fire...
Also by Chris Pascoe