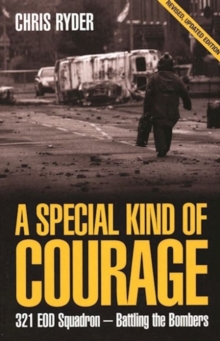 A Special Kind of Courage : 321 EOD Squadron - Battling the Bombers
Paperback / softback
Description
321 EOD (Explosive Ordnance Disposal) Squadron was posted to Northern Ireland at the outset of the Troubles, to provide bomb disposal expertise.
Since then, it has answered over 50,000 'bomb scare' calls, over 5,500 of them to deal with actual devices.
It is impossible to estimate the number of lives, or value of property, saved by its work.
But, the cost is clear. Conspicuous courage is an essential qualification, and 321 EOD is the most decorated unit in the entire British Army.
Its members have been awarded 2 George Crosses, 29 George Medals and 281 other medals for outstanding gallantry, many posthumously.
As peace emerges in Northern Ireland, 321 EOD is now ready to tell its story for the first time.
Written with its full co-operation, "A Special Kind of Courage" traces the history and development of bomb disposal and the use of explosives by terrorists; the human courage and techniques used to counter it; and the international dimension - how violent revolutionary groups abroad, such as ETA in Spain, copied the methods of Irish terrorists. It describes how 321 EOD's pioneering devices - notably the remote-controlled 'wheelbarrow' - have been exported around the world, earning it a global expertise that is sought by many other nations facing the threat of terrorism.
Information
Format: Paperback / softback
Pages: 352 pages, b&w plate section
Publisher: Methuen Publishing Ltd
Publication Date: 11/05/2006
Category: Military history
ISBN: 9780413775672