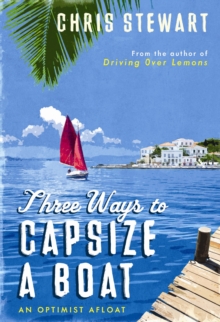 Three Ways to Capsize a Boat : An Optimist Afloat
Hardback
Description
If you're wondering what Chris Stewart did before he and Ana moved to El Valero, their Spanish farm, here's one of the answers.
He took to the sea, landing a job as skipper for the summer, sailing a Cornish Crabber around the Greek islands.
It was his dream job - and there was just one tiny problem.
He hadn't ever sailed before and had not the foggiest how to start. In a series of madcap and hilarious adventures we follow Chris from a shaky start in Chichester harbour to his epic Odyssey to Spetses (a bucket would have been handy), and then on to the journey of a lifetime - battening down the hatches on a trip across the North Atlantic.
It's a journey crackling with Chris's zest for life, irresistible humour, and unerring lack of foresight.
Dry land never looked more welcoming.
Information
Format: Hardback
Pages: 192 pages
Publisher: Sort of Books
Publication Date: 01/05/2009
Category: Sailing
ISBN: 9780956003836
Other Formats
Paperback from £6.19
EPUB from £1.59
Free Home Delivery
on all orders
Pick up orders
from local bookshops
Reviews
Showing 1 - 3 of 3 reviews.
Review by riikkat
16/06/2015
The book tells of a time long before Chris Stewart's farm in Spain and even Ana is still in a girlfriend stage. In the first part of the book Chris gets a job offer of a lifetime, when his friend asks him to skipper a boat on the Mediterranean for a summer. Why, is anybody's guess, since Chris hasn't set a foot on a sailing boat in his life. But naturally he accepts.In the second part Chris is invited on a sailing trip across the Northern Atlantic via Norway and Iceland all the way to Newfoundland in the footsteps of the viking Leif Eiriksson. The trip is considerably more dangerous and demanding than his previous summer on the Med, but luckily he lives to tell the tale.One can only marvel at Chris Stewart's relaxed attitude to life. I think his writing style is just as relaxed and he is often very funny. However, the book is rather short and not quite as good as his previous ones. Somehow it left me wanting for more. I kept wondering, whether the stories had worked better as part of another book, like he did with his stories about sheep shearing in A Parrot in the Pepper Tree. As it is, I did enjoy reading about his exploits with sailing and spent a couple of happy hours on a rainy July day with this book, most of the time glad to be far far away from the sea myself...
Review by pbadeer
16/06/2015
Written by the original drummer of Genesis (Chris Stewart), "Three Ways to Capsize a Boat" covers his time between being kicked out of the band and the farming experiences as outlined in his bestselling memoir, "Driving Over Lemons". Part Bill Bryson/Part Peter Mayle, Stewart's narrative outlines a hilarious (although at times harrowing) life on the open sea – beginning with a job offer to skipper the sailboat of a wealthy American couple – an offer he received and accepted at a time when he had never yet even stepped foot on a boat. Clearly he learned a thing or two before this first position, and what he experiences in his life at sea, while not particularly profound, provides enough humor and insight to keep the book moving at a fast and steady pace.The book continues to chronicle a second sea voyage as part of a group sailing the north Atlantic from the UK to Greenland, and at times, the detail of experience and the monotony of the open seas (and of the writing describing it) begins to drag. But even at times of pending peril, Stewart finds moments of hilarity to keep the reader's interest. Based on the fact his later books do not describe a life at sea, it remains a question what the "point" of this book is. It did not prove an epiphany to his personal growth and the reader views the experiences from a distance without really becoming a part of the journey. But as a diversionary read, a view of life at sea and/or an insight into life abroad, [Three Ways to Capsize a Boat] is worth a look.
Review by Figgles
16/06/2015
A light and enjoyable memoir of the author's sailing experiences - starting as a novice professional skipper (that's as peculiar as it sounds!) in the Greek Islands and concluding with his experience as crew on a high latitudes voyage in a Bristol Channel pilot cutter. The author is funny and self deprecating and his experiences at sea ring very true - the bit about the difficulties of going to the loo on a boat during a storm is painfully realistic and hilarious. Well worth reading by sailors but I imagine landlubbers would enjoy it too.