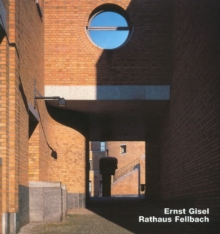 Ernst Gisel- Rathaus Fellbach : Opus 19
Hardback
Part of the OPUS series
Description
Text in English & German. Not just a winner, but a major winner. And Fellbach won it by letting Zurich architect Ernst Gisel build its new town hall. And it is just the same as winning the lottery: it takes time for it to sink in and to be really pleased.
Winning also means stress, especially if the player never really believed in his luck.
But why be pleased about a town hall, about a collection of official rooms, intended only to make administering the individual citizen even smoother?
Can a town hall be anything at all more than a home for all the official panoply of tit-for-tat responses?
It can indeed, if you make it into a piece of the town, a good piece of the town ...Ernst Gisel's town hall for Fellbach is one of the very few buildings that make one enthuse about the town.
Like Stirling's Neue Staatsgalerie it invites you to linger -- even without a reason: in the Stuttgart museum you are attracted by terraces, ramps and an open rotunda, whereas in the Fellbach building there is a sense of a strong suction that will draw the public into the inner courtyard of the complex. "A bit Italian" -- that is what Gisel himself says about the atmosphere there, and he is right. The urban quality of the new town hall corresponds with the quality of the detailed architectural solutions and the care with which Gisel devoted himself to the architectural design in the interior.
Art in the building? There is that too. Gisel himself designed the fountain for the market-place facade: architecture on a small scale, a game with volumes through which the water slowly runs.
In the inner courtyard, in the town-hall square, is the sculpture Uberlebenskopf (survival head) by Zurich artist Otto Muller -- a sober monument that corresponds precisely with the confident but modest character of the building.
The new town hall is a fairly perfect piece of architecture and urban art: reticent as a whole, monumental in detail.
Free Home Delivery
on all orders
Pick up orders
from local bookshops