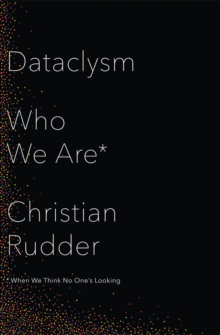 Dataclysm : Who We are (When We Think No One's Looking)
Hardback
Description
What is the secret to lasting love? Does where you went to school matter? Are we really living in a postracial society? Dataclysm is a smart, irreverent look at who we really are, when we think no one's looking.For centuries we've relied on polling or small-scale lab experiments to study human behaviour, but today, as we live more of our lives online, researchers can finally observe us directly, in vast numbers and without filters.
Data scientists can see better than ever how we fight, how we love, and how we change.
Our personal data has been used to spy on us, hire and fire us, and sell us stuff we don't need.
In Dataclysm, Rudder uses it to show us who we are as people.He reveals how Facebook "likes" can predict, with surprising accuracy, a person's sexual orientation and even intelligence.
He charts the rise and fall of America's most reviled word through Google Search and examines the new dynamics of collaborative rage on Twitter.
He exposes the disparity between how people express themselves, privately and publically. And he grapples with the challenge of maintaining privacy in a world where these explorations are possible.Provocative, illuminating, and visually arresting, Dataclysm is a portrait of our essential selves-and a first look at a revolution in the making.
Free Home Delivery
on all orders
Pick up orders
from local bookshops
Also by Christian Rudder