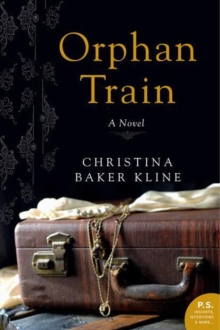 Orphan Train : A Novel
Paperback
Description
The #1 New York Times BestsellerChristina Baker Kline's Orphan Train is an unforgettable story of friendship and second chances that highlights a little-known but historically significant movement in America's past-and it includes a special PS section for book clubs featuring insights, interviews, and more.Penobscot Indian Molly Ayer is close to "aging out" out of the foster care system.
A community service position helping an elderly woman clean out her home is the only thing keeping Molly out of juvie and worse...As she helps Vivian sort through her possessions and memories, Molly learns that she and Vivian aren't as different as they seem to be.
A young Irish immigrant orphaned in New York City, Vivian was put on a train to the Midwest with hundreds of other children whose destinies would be determined by luck and chance.Molly discovers that she has the power to help Vivian find answers to mysteries that have haunted her for her entire life-answers that will ultimately free them both.Rich in detail and epic in scope, Orphan Train is a powerful novel of upheaval and resilience, of unexpected friendship, and of the secrets we carry that keep us from finding out who we are.
Information
Format: Paperback
Pages: 320 pages
Publisher: HarperCollins Publishers Inc
Publication Date: 01/04/2013
ISBN: 9780061950728
Free Home Delivery
on all orders
Pick up orders
from local bookshops
Reviews
Showing 1 - 5 of 173 reviews.
Previous | Next
Review by LRGross50
16/06/2015
I've been so thrilled with some of the books I've been getting in e-proof form. The most recent, due out next April, is called, "The Orphan Train," by Christina Kline. It's historical fiction, but it's also that so rare crossover YA/Adult book since it involves the bonding between an elderly lady, a former rider of the Orphan Train, and a current day foster child and makes the connections between the similar types of loss and abuse they experienced. Very well written. Certainly engaging. It impresses me as something that would do well for a book club, but also for a teen/parent book discussion about treatment of children in the US. Highly recommended.
Review by Supera710
16/06/2015
I received a copy of Orphan Train courtesy of bookreporter in exchange for a review.Molly is a 17 year old foster child, living with a couple that doesn't understand her and barely tolerate her. She gets into trouble and ends up doing community service work for Vivian, a 91 yr old widow that lives in a huge Victorian mansion. Vivian puts Molly to work cleaning out her attic, or so it would seem. They start going through boxes, and hardly getting rid of anything, which brings Vivian to tell her story to Molly.I have never heard of the orphan trains before this book, but I am eager to learn more. I absolutely loved this book, and am debating if it deserves a 5 star rating. (I'm a little stingy, what can I say) I was so unsettled with how they would take kids on trains across America and just give them to the first taker, like they were slaves! Even tho that's what the majority of them ended up becoming I'm sure. I loved how Molly and Vivian connected, how Vivian saw a part of herself in Molly, and shared her story with her, pieces of herself she hadn't shared with anyone else. Christina Baker Kline wrote a book that not only shined a light on a part of history many people probably aren't even aware of, but she made it a page turner! I can't wait to read what she comes out with next.
Review by jcmontgomery
16/06/2015
As a fan of history, I was surprised to discover there is an aspect of American History I'd never heard of: Orphan Trains. Between 1854 and 1929, thousands of orphaned and abandoned children were collected and shipped to the Midwest; many ending up in situations not much different than indentured servitude.During this time, there was no social safety net or child labor laws. It was a social experiment that was intended to improve the lives of destitute children. It may have worked for some, but in the long run, were these children better off? They children had already suffered a great deal and now were shipped off to places and families as foreign to them as their pasts and culture were to their adoptive families. As a real life rider Pat Thiessen noted, ". . . I always felt they were not my people. And they weren't."This sound eerily similar to the assimilation efforts made by the American government when they forced Native American children to attend boarding schools in order to be "Americanized".Connecting the this past to the present, the author brings together Molly, a Native American and a product of a difficult childhood and multiple foster homes and and Vivian, an orphan train rider.Molly and Vivian are separated by age but not much else and discover this while working together to clear Vivian's attic. Instead of removing old items, memories are re-lived and shared; commonalities found; self-identity and self-worth developed and eventually, accepted.Chapters of the story vary between two times – the past of Vivian and the present of Molly. It was a challenge according to the author, but she (with the help of a wonderful editor) makes it work.Even though there are two storylines, they work together to give a reader the sense that they are reading a single story. It is a story about relationships between people and cultures. How the perceptions and prejudices of others can undermine someone's self-identity, but not destroy it.Vivian and Molly are both faced with situations that at one point in their lives, they find it difficult to trust anyone. But ultimately, good people outweigh the bad and they learn it's okay to trust.At about three hundred pages, this will be a great read for anyone under any circumstance. The chapters are short enough that if you have to put it down to get off at the next stop, or the flight landed, or your lunch hour is over, it shouldn't be a problem. Of course wanting to put it down is another matter. At no time did I ever feel like there was fluff or filler. Every paragraph and chapter worked and before I knew it, I was reading the last chapter.I know there is a lot of talk going on about this book, and it is well-deserved. I'm so glad I was able to get a review copy, but I assure you, I would have gladly paid for a copy. In fact, it not only goes on my "recommendation" list but on my "books to give as a gift" list.
Review by BrokenTeepee
16/06/2015
I continue to be amazed at the things I learn about the history of this country from reading books. Orphan Train is based in fact; from the mid 19th century through the first quarter of the 20th century there was no system for dealing with orphans or what we would consider foster children today. It was left to churches and charitable organizations. And for those who feel that they are best left to deal with these social issues, I suggest you research the orphan trains because their solution was to take the children into various cities and give them away to anyone who wanted a child. No background checks, no follow up, no nothing. These children were left with people in the hopes that they would be given a good life. Some were, many were nothing more than house slaves. I'll get off the soapbox now.The book juxtaposes two lives - that of young Molly, a foster child of the current generation who lives with a family that is divided as to her presence. The "father" is pleasant to her and sees the good in Molly but the "mother" would rather she be gone and in all truth is only doing the foster thing for the money it brings into the household. The second life is that of Vivian - born Niamh, who becomes Dorothy and ultimately Vivian as she is left alone in New York after her family is killed in a fire. She is taken in by Children's Aid and sent West on an Orphan Train to hopefully find a new home. What she finds at first is mistreatment, suspicion and abuse.While on the train she meets some other orphans one of whom will play an important role in her life. Most of the other characters, though fade into the background as the story focuses on Vivian and Molly and how the two of them reconcile their pasts which are not as different as they might think.I sped through the first 2/3rds of this book totally enthralled with Vivian's story. Molly's life was really not as interesting or as fleshed out as Vivian's and I suppose that since the book IS titled Orphan Train it should be focused on Vivian. Once the book hit the point in the story that moved it to the present it was as if all the rich detail that made the first part so compelling went out the window. There was an OMG moment in the book and then everything was rushed and it became, at least to me, a book of what could have been.It was as if the author had only so many pages left and had to fit in more information than allotted space. I felt cheated somehow and very disappointed. The book could have been so much more and I feel the loss of what I know I've missed.
Review by whitreidtan
16/06/2015
Some people don't like to read fiction because they think it's all invented by the author. What they don't realize is that there is a huge amount of research that goes into writing the best fiction and there's a good chance that they'll learn something as they read. This is especially the case in historical fiction. There have been many historical fiction novels that have introduced me to aspects of history I had either never heard of or with which I had just the barest glancing familiarity. Christina Baker Kline's Orphan Train is one such novel. Before reading it, I had no idea that orphaned and abandoned children from the overpopulated east were bundled onto trains and sent west to be adopted, stopping at town after town along the way to drop these children into new, and sometimes less desirable, lives. Molly is a seventeen year old in foster care. She's been disappointed enough by the system that she's not going to count on this latest placement either and her new foster mom's attitude towards her just reinforces her aloof surliness. She opens herself up to very few people, not trusting them to be there for her or to care for her as a person. But she's more than just this untouchable, emotionally distant Goth teen. She's a girl who so loves the book Jane Eyre that she steals a battered, old copy from the library. But she gets caught and sentenced to community service. And this is where things start to look up for Molly because she gets to do community service by cleaning out decades of accumulated stuff in the attic of Vivian Daly, an elderly woman with an unbelievable history and more in common with Molly than the either of them can begin to imagine. Interspersed with the story of this sad and hurting teenager in 2011, is the story of Niamh, a red-headed, freckle-faced, 9 year old Irish child living in New York City who loses her entire family in a tenement fire in the late 1920s. Without relatives willing to take her in and in a city prejudiced against the Irish, she was dumped on the Children's Aid Society. When the Society started shipping children west on so called orphan trains, young Niamh was aboard. The infants on the trains were often adopted into loving families and raised as the family's children. Many of the older boys on board were chosen for their ability to help with farm work while older girls became nannies or maids. A visibly Irish Niamh was passed over again and again at each of the train stops until she was finally chosen by a man and his wife who renamed her Dorothy and only took her into their home as an unpaid laborer in their woman's clothier business. And so the two stories continue alternating with each other, Dorothy's life and continued hardship and Molly working for Vivian Daly, coming to know and like the upright and interesting old woman. Working at her community service and learning the difficult story behind Vivian's life, Molly blooms, starting to feel as if she is important in someone else's life, and even volunteering to help Vivian look into her past and discover the truth of her life with the help of modern technology. The information about orphan trains and the lives that the children who were transported on them lived was fascinating stuff. Kline has done a good job researching both the situations that led to the trains and the hardships that many of the children faced even once they reached a new life. The endurance of children like Niamh/Dorothy, because they had no other choice, is simply heatbreaking. The historical aspect of this novel was far more engrossing than the modern portion though, making the novel slightly unbalanced. It is a sad commentary that the failures of the foster care system for Molly are not unexpected or unbelievable but as such, they come off as a bit clichéd. Although the ending and its revelations are not terribly surprising, they are, in this day of information only moments away at your fingertips, completely realistic and perfect to wrap up the story of these two lonely people searching for connection and care in their lives.
Also by Christina Baker Kline | View all