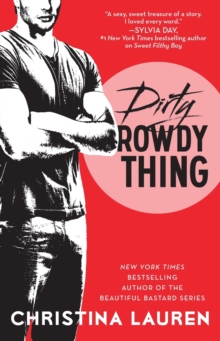 Dirty Rowdy Thing
Paperback
Description
Despite their rowdy hookups, Harlow and Finn don't even like each other...which would explain why their marriage lasted only twelve hours.
He needs to be in charge and takes whatever he wants.
She lives by the Want-something-done? Do-it-yourself mantra. Maybe she's too similar to the rugged fisherman-or just what he needs.
Information
Format: Paperback
Pages: 336 pages
Publisher: Simon & Schuster
Publication Date: 04/11/2014
ISBN: 9781476777962
Other Formats
EPUB from £5.99
eAudiobook MP3 from £15.11
Free Home Delivery
on all orders
Pick up orders
from local bookshops
Reviews
Showing 1 - 5 of 5 reviews.
Review by B.J.O.
16/06/2015
4.5 Funny Banter & Sexy Fun Stars! Harlow & Finn get their story in Dirty Rowdy Thing, and it had me in stitches! After reading, and thoroughly loving Sweet Filthy Boy, I jumped at the chance to review this second book in the Wild Seasons series. Not only do we get more of Ansel and Mia, as well as the whole Las Vegas gang, but we also get a love story with a totally different flavor. Whereas Ansel's and Mia's story was an example of love at first site, Harlow and Finn start their story with a divorce (following a quickie Las Vegas marriage of course!). I loved the whole hot, blue-collar fisherman tries a casual, dirty fling with the Hollywood princess, and end up with way more than they bargained for angle! I also admire the Christina Lauren duo writing team for inserting the very real and difficult issue of breast cancer into their story. We often forget that breast cancer affects the entire family, not just the victim, and Dirty Rowdy Thing thoughtfully brings this sensitive issue to the forefront.Dirty Rowdy Thing commences where Sweet Filthy Boy leaves off. Harlow is back in California, and Finn in Canada. Harlow, the daughter of a famous Hollywood actress and Hollywood big wig, is leading a somewhat carefree life working 12 hours a week as an intern for a studio, and going from man to man having fun without ever really getting serious about any one guy. Finn, on the other hand, along with his brothers, is pretty much at the other end of the spectrum, as he has for years, since his father took ill, been running, along with his brothers, the family fishing business, and has only had a handful of relationships. Although they have had at least one rendezvous since their inauspicious beginning in Las Vegas, given their totally different lives, it's no surprise that while each is incredibly attracted to the other, neither expects more than a little wild, frisky fun when their paths do cross (which is bound to happen occasionally given their Mia/Ansel link). Then circumstances in both their lives take a rather quick deteriorating turn and, at equally vulnerable points in their lives, they find rather unexpectedly that their feelings for one another are starting to change. But given their two completely different natures, could there possibly be a HEA in store for this couple? Equal parts funny and incredibly sexy, I thoroughly enjoyed Dirty Rowdy Thing. Like Sweet Filthy Boy, the Christina Lauren team finds some rather creative ways to amp up the heat level of this read by throwing in some creative kink along with the incredibly, lascivious dirty talk. Moreover, I enjoyed the joining of this rather unconventional couple and how they seemed to bring out the best in each other.I can't wait for the next book in the Wild Seasons series, Dark Wild Night, which will detail Lola's and Oliver's story and is scheduled to be released in September 2015! Source: ARC received in exchange for an honest review.
Review by Sheila1957
16/06/2015
This is Finn and Harlow's story all the way. Both are struggling with life changing situations. Finn shares his but Harlow does not. When he finds out it may be the end for them. This started slowly but picked up when the two of them realize the other is more than a distraction, an itch to be scratched. Watching their reactions when they realize the significance of the other to their life is fun. Finn does not replace Ansel as my book boyfriend but he gives him a good run for it. I like the friendship between the guys and the girls. I also like the support system they have created. I look forward to Oliver and Lola's story. These characters are old friends and I like catching up with them.
Review by JosP
16/06/2015
Let's face it, I always seem to fall in love with their books for two reasons; one, they know how to make some pretty awesome characters, and two because their writing can really bring the characters to life. So with the combination of impeccable writing and characters, it's no wonder I was completely enamored with this book. Harlow has so many great qualities that you wished she was your best friend, or better yet, your sister. She puts family first and makes no apologies for that. She is also quite witty and sarcastic which always make up some of my most favorite characters. She is also very loyal to her friends which you don't always get from people and characters nowadays. On the outside she may be very strong and put together, but on the inside she is tender and just wants love, like most people. Finn is much like Harlow in many ways. For example, he also puts family first, is proud, sarcastic, and funny. Many times, in books it seems, opposites seem to attract, but Finn and Harlow are rather very much the same. So that causes different kinds of rifts between them. And just kinda proves that not all couples have to be composed of two completely different people.In Sweet Filthy Boy, Mia was with Ansel in France most of the time, so we hardly got to know all their friends sober and in their element. So I loved how very present all of the friends were in this book. It's nice revisiting old characters and learning more about the ones we hardly knew. I must say that I feel rather spoiled because we got Sweet Filthy Boy earlier this year, and now we got this one. Now I am a bit crushed that we have to wait almost a year for the next one. But we will get more from the Beautiful Bastard series, and I can't wait to find out which character from this series will appear in that one! (I think it may be Ansel, but I can't wait to find out for sure.)
Review by aznstarlette
27/08/2015
LOVE the chemistry between Finn Roberts (adding him to my list of best fictional crushes ever) and Harlow Vega. It was fun seeing their relationship unfold - they're perfect for each other - and they dealt with hurt, anger, and problems in a real way. None of this overblown shit that happens in a lot of romance books. Be warned: this is a HOT read ;)
Review by GwendolynGrace
27/08/2015
Enormous love! I want to crawl into this series and live. Auto buy! Can't wait for more!
Also in the Wild Seasons series | View all