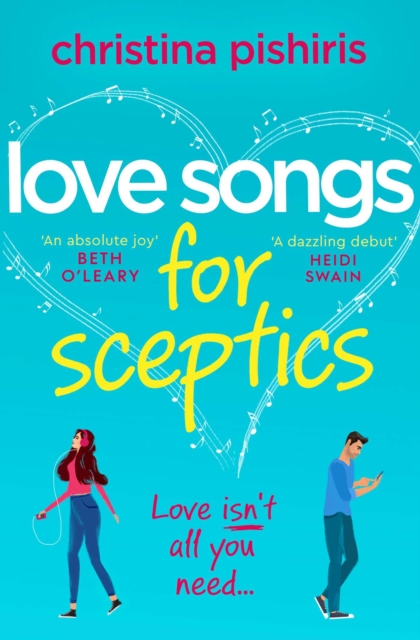 Love Songs for Sceptics : A laugh-out-loud love story you won't want to miss!
Paperback / softback
Description
A fantastic debut from a HILARIOUS and brilliantly ORIGINAL NEW VOICE in women's fiction... 'I loved it. It's an absolute joy... I finished the book with a huge smile on my face' BETH O'LEARY, Sunday Times bestselling author of The FlatshareMy brother's getting married in a few weeks and asked for help picking a song for his first dance.
I suggested Kiss's 'Love's a Slap in the Face'. It didn't go down well. When she was a teenager, Zoe Frixos fell in love with Simon Baxter, her best friend and the boy next door.
But his family moved to America before she could tell him how she felt and, like a scratched record, she's never quite moved on.
Now, almost twenty years later, Simon is heading back to London, newly single and as charming as ever . . . But as obstacles continue to get in her way - Simon's perfect ex-girlfriend, her brother's big(ish) fat(ish) Greek wedding, and an obnoxious publicist determined to ruin her career - Zoe begins to wonder whether, after all these years, she and Simon just aren't meant to be. What if, despite what all the songs and movies say, your first love isn't always all it's cracked up to be?
What if, instead Zoe and Simon are forever destined to shuffle around their feelings for each other, never quite getting the steps right . . . With a smart, relatable central character and razor-sharp wit, Love Songs for Sceptics is perfect for fans of Mhairi McFarlane, Lucy Vine and Lindsey Kelk. 'A dazzling debut. Christina has a fresh, fun voice - I laughed and cried in abundance!' HEIDI SWAIN, Sunday Times bestselling author 'Brilliantly written, Love Songs for Sceptics is warm, engaging and so funny.
I am officially a huge fan and can't wait for more from Christina' LUCY VINE 'I absolutely loved Love Songs for Sceptics.
Hope infused into every page - JOYOUS' MIRANDA DICKINSON 'Do you ever feel like an author reached into your brain and pulled out the exact book you wanted, at the exact right time?
This is what it felt like from the very first page of Love Songs for Sceptics.
Voicy, heartfelt, hilarious, propulsive--this book is brilliant.
With the ache of second chances, the chaos of family, and in the iconic backdrop of London, Love Song for Sceptics strikes the perfect notes of romance, snark, and yes, even sweetness (hold the schmaltz).' Christina Lauren, New York Times and USA Today bestselling author 'Christina is a breath of fresh air, and her book throbs with fun and sentiment.
A wry modern eye and a sparkling debut' JULIET ASHTON, author of The Sunday Lunch Club 'Engaging, relatable and brilliantly funny!' JOANNA BOLOURI, author of Relight My Fire 'An exciting new talent.
Funny, sharp and real - it'll make your heart sing' LAURA KEMP, author of The Year of Surprising Acts of Kindness 'I loved this book.
Christina's debut is funny, relatable, and smart. And also made me hungry for Greek food!' CATHERINE BENNETTO, author of How Not to Fall in Love Actually 'I'm blown away that this was a debut.
Christina's writing is polished, engaging, and witty; I was invested in Zoe's life straight away and I loved, loved, loved Zoe's personal growth.
Love Songs for Sceptics hooked me from the first page, made me smile all the way through, and immediately cemented itself as one of my all-time favorite contemporary love stories.' SARAH HOGLE, author of You Deserve Each Other 'Funny, sweet, and full of surprises, Love Songs for Sceptics is the perfect rom-com for music nerds.' KERRY WINFREY, author of Waiting for Tom Hanks and Not Like the Movies
Information
Format:Paperback / softback
Pages:464 pages
Publisher:Simon & Schuster Ltd
Publication Date:01/10/2020
Category:
ISBN:9781471189968
Information
Format:Paperback / softback
Pages:464 pages
Publisher:Simon & Schuster Ltd
Publication Date:01/10/2020
Category:
ISBN:9781471189968