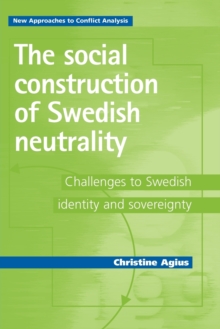 The Social Construction of Swedish Neutrality : Challenges to Swedish Identity and Sovereignty
Paperback / softback
Description
Since the end of the Cold War, and particularly in the post-9/11 international environment, neutrality has been conceptualised as a problematic subject.
With the end of bipolarity, neutrality as a foreign and security policy lost much of its justification, and in the ongoing 'War on Terror', no state, according to the Bush Administration, can be neutral.
However, much of this debate has gone unnoticed in IR literature.
This book, newly available in paperback, examines the conceptualisation of neutrality from the Peloponnesian War to the present day, uncovering how neutrality has been a neglected and misunderstood subject in IR theory and politics.
By rethinking neutrality through constructivism, this book argues that neutrality is intrinsically linked to identity.
Using Sweden as a case study, it links identity, sovereignty, internationalism and solidarity to the debates about Swedish neutrality today and how neutrality has been central to Swedish identity and its world-view. -- .
Information
Format: Paperback / softback
Pages: 264 pages
Publisher: Manchester University Press
Publication Date: 30/06/2012
Category: Comparative politics
ISBN: 9780719071539
Also in the New Approaches to Conflict Analysis series | View all