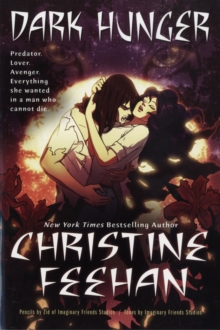 Information
Format: Paperback
Pages: 208 pages, illustrations
Publisher: Penguin Putnam Inc
Publication Date: 22/11/2007
Category: Comics and Graphic Novels
ISBN: 9780425217832
Free Home Delivery
on all orders
Pick up orders
from local bookshops
Reviews
Showing 1 - 5 of 5 reviews.
Review by onyx95
16/06/2015
Chained to a wall by the humans, caught in a trap surely set by a master vampire, Riordan was running out hope. Witnessing the men take more wild animals into the new research building, Juliette and her sister Jasmine needed to save the animals before they were tortured, finding not only animals but a man, nearly broke her heart. Binding themselves together meant one big family. Several months ago I read the novella version of this story, so I knew what was going to happen. I know several people that like to read Manga books and wanted to see what they were so I thought I would start with a story I knew and liked by an author I liked. This was my first Manga a will probably be my last, apparently I am not the type that likes this version of story telling. The pictures did not seem to fill in the information that I felt was missing, the print words were choppy and seemed to lack all the emotion that I am used to from the Carpathian books. I was disappointed (maybe since I already knew the story) that it didn't offer more of the information that is needed to really understand the Carpathian men and their need for the bond. If I had just read this one, I never would have liked Riordan or the cousin Solange. I am sure this kind of work appeals to some people, but for me, I need more information. I can create the pictures in my head a lot better (IMO) than Imaginary Friends Studios did.
Review by Jenson_AKA_DL
16/06/2015
It is kind of hard for me to speculate what niche to place this in. While I enjoy both paranormal romances (and have read this particular short story before) and manga, I'm not really sure of the combination here. Looking at this from the manga perspective I can't say that I was wild about the artwork, although it is much better than some of the Westernized manga artwork I've seen in the past. It also seemed to me like it would be difficult to follow the story without having a background of who the Carpathians are from past experience. From my knowledge of the Dark series in generally I could figure out that ** means telepathic communication but I'm not sure if everyone would get this (unless there is a key somewhere in the manga I totally missed).Looking at this from the paranormal romance lovers point of view I could see this being interesting in a "oh, that's really different" sort of way. But, I think that one might be disappointed in the restrictions of the manga format to a reader used to their own way of visualization. For the more hardcore fan of a particular author/series it does offer a unique way to experience their world which I can see the draw of. However, for those with only a general interest in paranormal romances or a manga lover using this as an introduction to this genre/author/series I don't think it would work as well. But, that is just my opinion.Personally I thought the manga was done well enough all things considered, that is to say I didn't hate it anywhere near as much as the <i>Avalon High</i> manga (another manga-based-on-a-novel). The panels presented a straightforward reading format which made it easy to follow, the plot itself was interesting and the characters' personalities did seem to come through. That being said I felt that some of the actions/dialog came off a little cheesy in this adaptation where it didn't seem that bad in the original story.Unfortunately, after giving this one a shot I cannot claim that I will ever again be inspired to go out of my way to get another paranormal romance, or other novel, based manga.
Review by fairypenguin
16/06/2015
To begin, I don't read a lot of manga or a lot of graphic novels so I can't speak of the quality of this versus anything else in either genre. I bought it because I'm a Christine Feehan fan, and I'm reviewing it with other Feehan fans in mind.Riordan is a Carpathian warrior long removed from his homeland. Captured by evil humans under the influence of a master vampire, he is tortured and desperate. Juliette is a woman of the Jaguar people, a mysterious race of shape shifters who dwell in the jungles of South America. She discovers and frees Riordan. He is shocked to discover that she is his lifemate, the key to restoring emotion and color to his cold and dreary life. I think the artwork and layout gave this story a very unique and sensual feel. It follows the story of the original novella faithfully, but adds a vividness to the story. The story itself is action-packed and romantic. It fits in well with the series while offering something new. The Jaguar people, for example, are an intriguing feature. The book relies on the reader's previous acquaintance with and understanding of Feehan's Dark universe--most importantly, the rules of Carpathian culture. If you have not read the other Dark books, expect to be lost. Some readers may prefer the novella version. It can be found in the anthology Hot Blooded, and is a good alternative. I cannot recommend this to manga fans, etc. I do, however, recommend it to fans of the 'Dark' series who are looking to expand their collection.
Review by historicalbooklover
16/06/2015
Disappointing at best. Honestly I grew up loving comics like Richie Rich and Casper the Friendly Ghost and thought I would like this too but this is terrible. The characters look so much alike from the profile that it is hard to tell them apart and the little bit of story there is with it reads like "Me Big Strong Tarzan, U Little Jane, Me Taking UR Blood Now, Yes Please I So Dizzy, Now UR Mine" So my advice to all the Carpathian fans who are looking at this as an interesting addition to the series "Save your money and time. It is not worth it"
Review by bookwormteri
16/06/2015
If you are a twelve year old girl who thinks that Edward from Twilight is dreamy, then you might enjoy this "book". I love comics, I love vampire stories, you would think that mixing the two would be great. This book proves that is not always the case. So sappy and crappy...It is hard to tell the two main characters apart, other than her boobs, which was annoying. Also, he is not a vampire, he is a Carpathian who will become a vampire if he loses his memory of love or his lifemate. She is a werejaguar who frees the Carpathian and luckily happens to be his lifemate...Skip it completely and go pick up a real comic book like The Walking Dead or Strangers in Paradise or The Sandman.