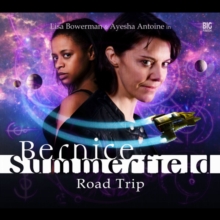 Description
Box Set containing three stories; BRAND MANAGEMENT by Christopher Cooper.
Bernice Summerfield needs a job. Professor Harry Burtenshaw thinks she's just the ticket.
But with the people of Lyndyaz celebrating their most important festival, and the ruling Dominicci Corporation maintaining control with draconian glee, has Bernice turned up in the wrong place at the wrong time?
BAD HABITS by Simon Bernard and Paul Morris. Meet Sister Bernice, newest initiate into the order of Saint Celestion.
In her quest for an ancient relic, Bernice faces fearsome challenges: the Blood Beast of Thaloon, the galaxy's randiest Bishop, and an ancient cult with some very bad habits indeed.
PARADISE FROST by David Llewellyn. Kaff Zarnak was once the holiday destination of choice for the rich and famous.
At least, it was until the planet spun off its axis, and a deadly virus wiped out its population.
Perhaps there's a reason what happens on Kaff Zarnak stays on Kaff Zarnak...
Information
Format:CD-Audio
Publisher:Big Finish Productions Ltd
Publication Date:29/02/2012
Category:
ISBN:9781844355990
Also in the Bernice Summerfield series