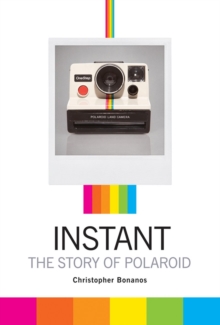 Instant : A Cultural History of Polaroid
Paperback
Description
Polaroid, in its time, was what Apple is to ours: the most interesting high tech company on earth.
It filled a niche all its own, one that nobody else intruded upon until the very end, and nearly all its brilliance came from the head of its genius founder, a man names Edwin Herbert Land.
There are four stories in here: the invention of a one of a kind technology, the creation of a medium that many artists embraced and loved, the story of a pop culture artifact that virtually everyone recognizes and a cautionary business tale about high tech companies that lose their inventive edge.
This book tells the remarkable history of Polaroid, which became hugely successful soon after it brought the first instant print camera to market in 1948.
Over the next six decades, Polaroid cameras became utterly familiar and they became more functional and more elegant with each new camera model.
With the rise of digital cameras, however, the company went bankrupt and in 2008 announced that Polaroid pictures were a thing of the past.
A few months later a group of enthusiasts founded the Impossible Project, dedicated to bring back Polaroid film, which returned the product to the market by mid 2010.
Information
Format: Paperback
Pages: 192 pages, col. Illustrations
Publisher: Princeton Architectural Press
Publication Date: 01/09/2012
Category: Photographic equipment & techniques
ISBN: 9781616890858
Free Home Delivery
on all orders
Pick up orders
from local bookshops
Reviews
Showing 1 - 4 of 4 reviews.
Review by JBD1
16/06/2015
Before Apple, before Google, there was Edwin Land's Polaroid. Christopher Bonanos tells the story of the rise and fall of this fascinating company in a beautifully-designed and profusely-illustrated account, <i>Instant: The Story of Polaroid</i> (Princeton Architectural Press, 2012). Bonanos explores Land's vision for his company, his somewhat, shall we say, unconventional philosophies and methods for getting his products into the hands of consumers, and then what became of Polaroid as digital photography largely pulled the rug out from under the analog instant-photography market.Bonanos also provides a glimpse at the full Polaroid picture, which didn't involve just consumer-based instant photography but all sorts of other projects over the years as well: a room-sized camera for taking photographs of artworks, polarized sunglasses and goggles, a sort of motion-picture camera called Polavision ... and he recounts some of the many ways in which professional photographers and artists made us of and experimented with Polaroid cameras and film to create beautiful, iconic images.Finally, the book closes with the sad chapter of Polaroid's collapse and bankruptcy, followed by the erstwhile efforts of many enthusiasts to continue the production and distribution of film that will create those distinctive Polaroid pictures.Not at all a dry, corporate history: this is a lively biography of a company, its people, and its products. Highly enjoyable.
Review by kmaziarz
16/06/2015
Before there were Steve Jobs and Apple, there were Edwin Land and Polaroid. Land was a charismatic, inventive leader, holding over 500 patents. Land didn't set out to reinvent photography; his first project was perfecting a synthetic polarizer. Land eventually succeeded; polarized sunglasses as we know them might not exist today without his efforts. From this humble beginning, manufacturing polarizing film for car headlights and sunglasses, Land managed to build his company into the hugely influential multi-national it became. He did this in much the same way Jobs did many years later; that is, by hiring the best minds available to him in any and all specialities, and then turning them loose in well-stocked labs to see what they could come up with. This approach worked well for a long time, but the end was inevitable. Several bad decisions and some bad blood led to Land stepping away from the company he'd built. That was the beginning of the end; Land's sucessors did not have the same passion and ingenuity and the company changed hands several times before declaring bankruptcy twice, the second time in 2009. While the behind-the-scenes details of Polaroid's rise to the top and rapid fall are fascinating, this is truly Land's story. Very few people today are aware of his contributions to technology and to business. A worthwhile read.
Review by snapsandreads
16/06/2015
I've always been fascinated with cameras. So I got really interested to Polaroid's mixed success and fall story. A must read if you want to discover "the Apple" of the earlier times. :)
Review by kaulsu
16/06/2015
You know, I liked the book, but didn't like the heavy paper it was printed on. Now that is probably the dumbest thing I've ever written in a review, but there it is.I found the first 2/3rds of the book quite interesting. This part was about the beginnings of the Polaroid project, the difficulties and the solutions they found to "work around" them. Many known artists actually used Polaroid cameras--I had not realized, for example, that Ansell Adams was a key promoter of the media. I did not know that Polaroid made a "20x24" camera that shot film of that size! This review will take more time than a lifetime if I resort to telling you all that I do not know, so suffice it to say that I learned many fun factoids. The last 1/3 of the book was about the demise of the company and what perhaps coulda shoulda been done to prevent it. As an example,...well, read the book and find out!
Also by Christopher Bonanos