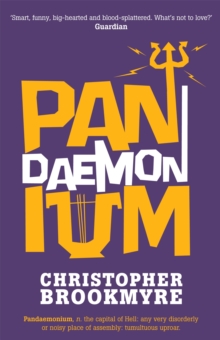 Description
The senior pupils of St Peter's High School are on retreat to a secluded outdoor activity centre, coming to terms with the murder of a fellow pupil through the means you would expect: counselling, contemplation, candid discussion and even prayer - not to mention booze, drugs, clandestine liaisons and as much partying as they can get away with.Not so far away, the commanders of a top-secret military experiment, long-since spiralled out of control, fear they may have literally unleashed the forces of Hell.Two very different worlds are on a collision course, and will clash in an earthly battle between science and the supernatural, philosophy and faith, civilisation and savagery.The bookies are offering evens.
Information
Format: Paperback
Pages: 400 pages
Publisher: Little, Brown Book Group
Publication Date: 03/06/2010
ISBN: 9780349120508
Free Home Delivery
on all orders
Pick up orders
from local bookshops
Reviews
Showing 1 - 4 of 4 reviews.
Review by AHS-Wolfy
16/06/2015
A group of Scottish catholic school students are sent to an outbound retreat at Ben Trochart in the Highlands to come to terms with the murder of one of their classmates by another who then committed suicide. An eventful trip is somewhat overshadowed by what happens at the party that's laid on for Saturday night. There's a very secret military base residing on the doorstep specialising in R&amp;D and it just seems to have opened a portal to hell. The current guise of the Inquisition (did you expect that?) has taken control of the project and is just about to shut it down much to the disappointment of the scientists on board but things don't go as planned. Real life game of Doom anyone?As with a lot of Brookmyre's work, the stereotypical characters that you start out with don't end up the way you expect and it's these characters that really make his work as enjoyable as it is. You also get the customary bad language and high blood spatter and body count you'd expect in a horror tinged spectacle such as this. Though that is where this work differs from his previous as they were all set in the crime/thriller genre whereas this one is most certainly not. The set-up is quite long in this book but it all adds up to setting the scene with a few reveals left until after the action starts. The humour is of the <i>laugh in the face of death</i> type which usually manifests in the excellent dialogue and with this one you don't need the glossary of local vernacular that was included in a previous novel.Another solid effort from Mr. Brookmyre that will entertain his regular readers and may add a few new ones with the supernatural/horror story setting.
Review by gbsallery
16/06/2015
Extremely entertaining light romp through a twisted gothic scenario. In essence, it's one class of Scottish schoolkids versus the forces of darkness - a grisly tale, told with style, pace and panache. Brookmyre excels even his own high standards with his one.
Review by Lillput
16/06/2015
I love Brookmyre's dark and wrong dialogue and storylines. I've read all his stuff and liked each one.This one is slightly different in style in that the usual parallel storylines have a more obvious linkage much early in the book than in others of his. It might have been this that made it slightly easier to read for me.In any event, last night I went to bed to read my usual couple of chapters but I found I simply couldn't put the book down until I finished some two hours later.It's probably the least believable of the storylines but is utterly engaging for all that.Loved it.
Review by JonArnold
16/06/2015
Brookmyre abandons the black humoured crime thriller for re-enacting Doom with a bunch of schoolkids. There's little new in his satirical target or the often extreme gruesomeness, nevertheless Brookmyre's usual energy and sick humour means it's a lot of fun.
Also by Christopher Brookmyre | View all