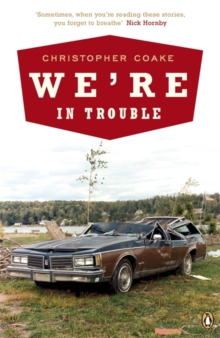 We're In Trouble
Paperback
Description
'I would like to claim that I discovered Christopher Coake but you can't really discover writers like this: the quality of the work is so blindingly obvious he was never going to labour in obscurity for any length of time ...
We're In Trouble is, for the most part, a book about death - quite often, about how death affects the young ...
Sometimes, when you're reading the stories, you forget to breathe, which probably means that you read them with more speed than the writer intended ...
They're beautifully written, and they have bottom ... striking and dramatic' Nick Hornby, Believer
Information
Format: Paperback
Pages: 320 pages
Publisher: Penguin Books Ltd
Publication Date: 01/06/2006
ISBN: 9780141019253
Free Home Delivery
on all orders
Pick up orders
from local bookshops
Reviews
Showing 1 - 1 of 1 reviews.
Review by MikeFarquhar
16/06/2015
We're In Trouble by Christopher Coake is one of those books - a collection of short stories - that just grabbed me absolutely from the moment I started reading (the opening story, In the Event, was perfectly pitched at me I think, and affected me more than a story's done in a while). Coake's just been named one of Granta's Best Young American writers, and on the basis of this, I look forward to seeing him live up to that in the years to come.These stories are all about people faced with moments of transition, often deaths, and how their loves and lives buckle, bend and either take the strain or don't. Coake's characters stare death in the face and they react in the most human of ways; the book is filled with a sense of over-powering fear, with the possibility of strengthening as a result of it. It's an often bleak read, but there is something redemptive in how many of the characters face their situations; as much as Coake writes of death and how we face it, he also gives a very real sense of love and how it can both shatter and persist. Though not all of the stories carry that tinge of hope, in those that do, it is the strength of the character's relationships that hints at how they will endure.Some of the stories are more ambiguous...Cross-Country, in which a boy is driven across the States by a man who may or may not be his father ends on a deeply haunting image that juxtaposes a protective love with something far more menacing.Though they share a common theme - characters in some sort of trouble, facing change and death - the stories are varied in style and tone. This is a writer already working at a high level, and these are the sorts of images and stories that are going to live on in my head for some time to come.
Also by Christopher Coake