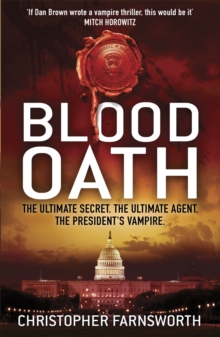 Blood Oath : The President's vampire 1
Paperback
Description
'There are worse things in this world than al-Qaeda and North Korea, Zach. And they are just waiting for their chance at us.' Sharp and ambitious, Zach Barrows is on his way up.
But when he gets a call from the White House, it's not quite the promotion he expected.
Zach is to be the new political liaison officer to America's best kept secret: Nathaniel Cade.
The President's vampire. And Cade is the world's only hope against a horrifying new terrorist threat advancing from the Middle East.
The fight is deadlier than ever, and time is running out ...
Information
Format: Paperback
Pages: 400 pages
Publisher: Hodder & Stoughton General Division
Publication Date: 01/03/2011
Category: Thriller / suspense
ISBN: 9780340998151
Free Home Delivery
on all orders
Pick up orders
from local bookshops
Reviews
Showing 1 - 2 of 2 reviews.
Review by wyvernfriend
16/06/2015
What if there was a vampire who had made a blood oath, under duress, to the US President. What if he's often the only person between humanity and the things that go bump in the night and what if there's one person assigned to him who passes on the orders. What if the terrorists can use dark magic to try to kill...It's an interesting read, I like the world and the twists are interesting. The characters felt very well fleshed out for me and I enjoyed how they interacted. I'm looking forward to more in this series. There were times when the pace dragged a bit and the characters seemed to be flailing a bit but overall it entertained me.
Review by AHS-Wolfy
16/06/2015
Zach Barrows is the latest young up-and-comer at the White House with all the foibles that entails. He's cocky, arrogant and sure of where his future lies and the President is just about to offer him a new job. All is well in Zach's life until the job offer is something different to what he expected and he assumes it's because the President has found out that he slept with his daughter. Zach is about to become the handler for the most secret of secret agents. Nathaniel Cade is a vampire bound to serve the office of the President of the United States by an oath bound in blood since the time of Andrew Johnson. Before Zach can get acclimatised to his new situation though, a plot materialises that could involve an old acquaintance of Cade's by way of the original Baron Frankenstein. Cade is sent out to investigate and Zach tags along for some on the job training.Not quite your normal urban fantasy tale but somewhere nearer a cross between 24 and Hellboy. The plot throws in a few twists and turns with terrorist organisations and shadowy government groups being involved and there's plenty of action to keep you going right through to the final confrontation. The developing relationship between Zach and Cade is where this book rises above the mediocrity though and is what will have me continuing the series at some point.
Also by Christopher Farnsworth | View all