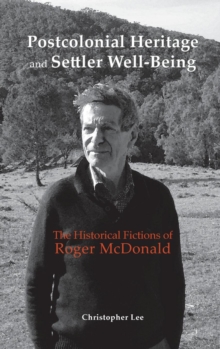 Postcolonial Heritage and Settler Well-Being : The Historical Fictions of Roger McDonald
Hardback
Description
The Australian writer Roger McDonald is the author of ten novels, two novelisations from and for film scripts, two television scripts, one semi-fictionalised memoir, a collection of essays, and two volumes of poetry. His publication record spans half a century from the late 1960s up until the late teens with his tenth novel, A Sea Chase, published in 2017. His books have achieved a significant record in the Australian list of literary awards and he has gone close to breaking into the major international prizes that distinguish the transnational careers of other contemporary Australian writers such as Thomas Keneally, Peter Carey, David Malouf, and, more recently, Kate Grenville. McDonald's work has been published in London and New York as well as in the key metropolitan markets of his native Australia, and it has been translated into Spanish, German, and Swedish. 1915, his first novel, was adapted into an Australian Broadcasting Commission television series, which was shown on Australian screens in the early 1980s and distributed internationally.
McDonald writes about ordinary characters whose lives have often been overtaken by historical forces they do not understand and cannot control. These men and women are commonly defined by whom they know and what they do rather than through the display of extraordinary qualities of mind, sensibility, or virtue. McDonald often situates his characters' within foundational Australian historical periods such as the convict period, frontier settlement, the development of the pastoral industry, the Great War, the Golden Age of Aviation, and the Second World War and its aftermath. This later post-war period saw the transformation of Anglo-Celtic Australia by waves of initially southern and eastern European migration, followed by Asian and indeed wider international migration. The emerging multicultural character of the country coincided with the decline of rural Australia and the pastoral industry as the preferred locations for representative Australian types and values. These events or periods are well entrenched within the public memory of a White Australia and that enables McDonald to explore his characters' search for purpose and fulfillment within the mythological registers of his nation's postcolonial history.
This study focuses on the books (five novels and the fictionalised memoir) in which McDonald has decided to situate his characters' search for purpose and well-being within the mythological registers of colonial history. It explores McDonald's investments in story and his developments in idiom and literary form, as endeavors to engage a wider public in the problem of postcolonial settlement. The common narrative problem is the elusiveness of a condition of Being that is well settled in the web of social, cultural, and environmental connections that are necessary for dwelling. McDonald pursues the possibilities for a wider more satisfying sense of human connection but his representations of the common man under the conditions of postcolonial modernity never allow that to come easily.
Information
Format:Hardback
Pages:250 pages, Illustrations, black and white
Publisher:Cambria Press
Publication Date:18/09/2018
Category:
ISBN:9781604979497