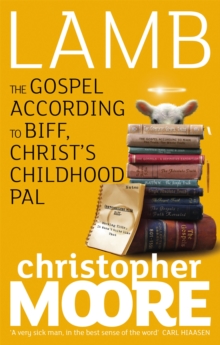 Description
The birth of Jesus has been well chronicled, as have his glorious teachings, acts, and divine sacrifice after his thirtieth birthday.
But no one knows about the early life of the Son of God, the missing years - except Biff, the Messiah's best bud, who has been resurrected to tell the story in this divinely hilarious, yet heartfelt work 'reminiscent of Vonnegut and Douglas Adams' (Philadelphia Inquirer).
Verily, the story Biff has to tell is a miraculous one, filled with remarkable journeys, magic, healings, kung fu, corpse reanimations, demons, and hot babes, Even the considerable wiles and devotion of the Saviour's pal may not be enough to divert Joshua from his tragic destiny.
But there's no one who loves Josh more - except maybe 'Maggie,' Mary of Magdala - and Biff isn't about to let his extraordinary pal suffer and ascend without a fight.
Information
Format: Paperback
Pages: 512 pages
Publisher: Little, Brown Book Group
Publication Date: 02/08/2007
Category: Fantasy
ISBN: 9781841494524
Free Home Delivery
on all orders
Pick up orders
from local bookshops
Reviews
Showing 1 - 5 of 7 reviews.
Previous | Next
Review by reading_fox
16/06/2015
Silly. An atempt to fill the missing years between Jesus's birth and the key events mentioned in the bible some 30 years later. However it does so by postulating a childhood friend and the pair going on tour for a while. Nominally looking for the three wise men to see why they follwoed a star and if they can help Jesus learn How to be a teacher. the humour fails almost completely in most instances. Jesus' friend "Biff" Levi is just annoying. According to the afterword the author actually did a lot of research into how life may have been lived in those times. The few areas where this comes across are by far and away the best parts of the book. However they are frequently overwhelmed by the trite rubbish that surrounds them which has been blatently made up and is annoying. The actual writing is fairly reasonable, the characters have littel depth but the descriptions are good and the story moves along at a reasonable pace. This doens't make up for the failure of the humour.Probably suitable for agnostic bible scholars with a sense of humour. Anyone else I'd advise avoiding it.
Review by grero
16/06/2015
A believable fictional account of how Jesus became the Messiah.. Well, maybe not that likely, but incredibly entertaining. The dialogue between Biff and Joshua is hilarious, tongue-in-cheek, but never never crosses the line into tackiness or disrespect. Biff paints a most flattering, touching and realistic picture of his childhood friend Joshua and how he became the Saviour or Mankind. A highly recommended book for believers and non-believers alike!
Review by agatatera
16/06/2015
It was one of the first books which I've exchanged on the Polish website similar to BookMooch. It was waiting quite long for being read ;) It's a nice, funny, mostly light story in a form of new Gospel, written by a friend of Jesus, who was vitalized by an angel to create it. It focus mostly on the years, where are not really well known and well described in the Bible, wonder why ;) So, we're getting to know Jesus childhood, growing up to his teenager years and then being an adult. On the way from Jesus childhood to his last days he has incredible amount of adventures –learning how to heal people, how to kick demons from them etc. When both of them are teenagers they decide to go and find 3 wise men, who were welcoming Jesus after he was born. So, they spend years and years on finding them and learning new knowledge and skills from them (with a lot of funny and not funny adventures.Jesus in this book Is close to being an "ordinary person" – he has his doubts, fears, sins, temptations and so on. He is funny, sarcastic, with a sense of humor. You could have a pal like he :) Of course, it's just a funny fiction story, but it's well written, keeping the attention of the reader all the time, giving a lot of fun while reading. I recommend reading it :)
Review by SonicQuack
16/06/2015
Christopher Moore is very very brave. His works so far have been for the most part extremely funny, setting a benchmark for himself which is hard to consistently write at. Lamb, is not as overtly funny since it is heavily grounded in history. That said, Lamb is still the funniest take on religion out there and of equal importance (and this is where skill with creativity comes in) it is not overtly blasphemous. Sure, it'll have some readers frowning as Jesus gets high on caffeine and gets heal-happy, some will believe that it mocks their chosen religion (for it's not just Christianity that is central to this book - oddly enough) and some will suggest that Jesus could never fit in to a wine amphora and it's just plain ridiculous. Moore doesn't really aim this at people who know The Bible, but is aiming at a larger audience, the General Public, who know all the miracles and stuff, and have a faint idea about the history. So with this in mind Lamb creates a marvelous, although lengthy, wry story, based on a story everyone can relate to. Most of the story details what the existing Gospels ignore, Jesus' adolescence. Kids will be kids right? It's brave and it's very well done. Guaranteed to provide smirks as a minimum.
Review by elliepotten
16/06/2015
Happily, this novel lived up to all the rave reviews and Moore-hype I've seen everywhere over the past few years. The basic premise is that Christ's oldest friend Biff has been resurrected by an angel and locked in a hotel room to write his own gospel - the real story of Joshua's life, filling in the massive gap between 'born in stable' and 'thirty and preaching the Word'. Christopher Moore being a clever and hilarious dude, this manages to incorporate everything from Buddhist philosophy and the wisdom of the Kings of Orient to kung-fu and a Yeti, as Joshua sets about learning how to be the Messiah. It's such an absorbing read, very intelligent, very funny, yet surprisingly wise and poignant sometimes too. Definitely a keeper, and I see many more Christopher Moore novels in my future!