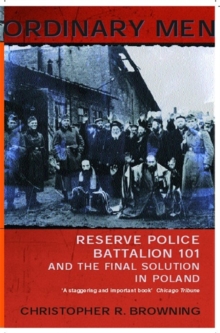 Ordinary Men : Reserve Police Battalion 11 and the Final Solution in Poland
Paperback
Description
Ordinary Men has been admired all over the world and is now published in the UK for the first time.
It takes as its basis the detailed records of one squad from the Nazis' extermination groups and explores in detail its composition, its actions, andthe methods by which it was trained to perform acts of genocide on an industrial scale.
He introduces us to cheerful, friendly, ordinary men who killed without hesitation or apparent remorse for years on end, in docile obedience to an authority theyhappily accepted as legitimate.
It is a valuable corrective to the idea of German uniqueness and offers a much more chilling picture of human beings as avidly suggestible and desperate for an organising purpose in their lives, however disgusting.
Information
Format: Paperback
Pages: 304 pages
Publisher: Penguin Books Ltd
Publication Date: 28/06/2001
Category: European history
ISBN: 9780141000428
Free Home Delivery
on all orders
Pick up orders
from local bookshops
Reviews
Showing 1 - 3 of 3 reviews.
Review by FPdC
16/06/2015
A modern classic. This book, first published in 1992, is an extremely important study about the Holocaust. Browning describes how a unit of ordinary, middle-aged, conscripted reserve policemen without the special ideological indoctrination of the type received by the members of the SS, became active participants in the murder of several thousands of Polish jews. The book starts by an analysis of the first occurences of Final Solution policies in occupied Russia in 1941, and then describes the actions of the Reserve Battalion 101 in Poland in the fall of 1942 and in 1943. The last two chapters contain extremely insightful and penetrating observations about the processes that could have transformed five hundred ordinary men into a group of mass murderers. In the Afterword to this British edition the author examines the critique the original American edition was subjected to by Daniel Goldhagen in his best-selling book Hitler's Willing Executioners. Goldhagen's biased methodology, lack of consistency, his double standards, and his skewed use of, and sometimes disregard for, the sources, is here brilliantly and devastantingly exposed. This book is a remarkable work of serious scholarship that do help us to understand (in)human behaviour not only in Nazi Germany but also in our own time. Indispensable!
Review by bibliobeck
16/06/2015
A very difficuly read, but a very important book. Alex Haslam, one of the psychologists who replicated Zimbardo's Prison Experiment in conjunction with Exeter University and the BBC recommended this when he came to speak to our students. He spoke about how ordinary men can do extraordinarily horrific things when in certain situations. Everything about this book is traumatic - from the photo on the cover to the very last page, but the message is clear - we can't hide from what happened and we should never forget. The book is an intensely detailed account of the men who formed Police Battalion 101 and how they went from mundane tasks to murder in Poland. Browning has undertaken the unenviable meticulous research of hundreds of hours of judicial interviews and transcripts which make up this hugely important document of the holocaust.
Review by kimbee
16/06/2015
I read it for my Holocaust class. The main thing I'll take away from the class and this book is that everyone had a choice during the war of race and space 
Also by Christopher R. Browning | View all