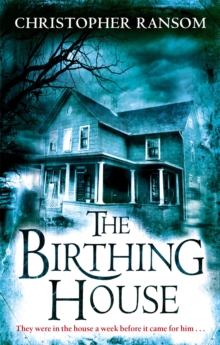 The Birthing House
Paperback
Description
When Conrad Harrison impulse-buys a big old house in Wisconsin, his wife Jo doesn't share his enthusiasm, reluctant at the idea of leaving their LA life - so Conrad is left to set up their new home as she ties up loose ends at work.
But Conrad's new purchase is not all that it seems. Soon Conrad is hearing the ghostly wailing of a baby in the night, seeing blood on the floor and being haunted by a woman who looks exactly like Jo.
With his wife away, Conrad becomes obsessed by the pregnant girl next door, Nadia, who claims to be a victim of the evil in the house.
The crying leads him to a bricked-up body, and the mystery of the Birthing House unravels, pulling in Jo, Nadia and leading Conrad to a nightmarish conclusion...
Information
Format: Paperback
Pages: 416 pages
Publisher: Little, Brown Book Group
Publication Date: 01/12/2008
Category: Horror & ghost stories
ISBN: 9780751541717
Other Formats
EPUB from £4.99
eAudiobook MP3 from £17.60
Free Home Delivery
on all orders
Pick up orders
from local bookshops
Reviews
Showing 1 - 5 of 8 reviews.
Previous | Next
Review by dreamyflo
16/06/2015
A classic plot - set in a house with a dark history. The Birthing House had me reading till the early hours then checking out my bedroom corners before I nodded off. A cosy mix of homeliness and relationships to begin with which soon becomes the background for a nightmare life that the main character, Conrad Harrison, finds himself enveloped in. The house takes on a character of it's own in becoming the factor for many odd happenings, including baby's crying, ghosts and mirrors falling off the walls. This escalates into many more gruesome twists in the tale. A great read, fast paced and a must for horror fans - be warned, there are no happy endings here, but that suits the plot just fine, no complaints here
Review by ckmbrowne
16/06/2015
I've just finished reading the Birthing House, and I can't really understand how it got some people to give it such a high rating. I'm not sure really who would love this book - its just not scary enough for most horror fans, and is far too muddled to be a good thriller. As some people have already said on here, the plot is confused, ends left untied, and in the end, I was unsatisified with what was supposed to be the back story to the house and why events were occuring. The final chapters whilst exploring bigger themes of life, birth, relationships and loss, then forgot to tell us what on earth was happening in the house. I think Ransom made a valiant effort for his first novel - I liked the characters of Conrad and Nadia, and I like the idea behind the story, adn the bigger themes it explores, but I think his editor should have done a better job of drawing in the sprawling plot and making sense of little moments that then seem to get forgetten about e.g. the snakes. Its a quick easy read, but if you're expecting a good horror story about a creppy old house, this will disappoint.
Review by AdonisGuilfoyle
16/06/2015
400 pages of odd. The haunted house story it was pretending to be would have been worth the paper, but this is actually just a poor quality mish-mash of slasher movie and a teenage boy's fantasy. The writing is weak to boot. I only persevered to find out if the exaggerated plot twists would be explained in a conventional, if disturbing, manner, but no, the author persisted with the supernatural cover story until the end. Conrad is a weak, selfish and oversexed dirty old man, and being 'possessed' by the house just compounds how thoroughly detestable he is. I feel cheated.
Review by Jannes
16/06/2015
Wants to be a Stephen King novel so very , very much. This might have been a good thing if King was worth aspiring to.Somewhat scary, mostly unconvincing. The protagonist is completely unbelievable in every sense of the word.
Review by emmee1000
16/06/2015
This book is awful. I can't believe I made it to the last page!