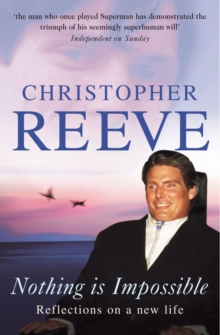 Nothing is Impossible : Reflections of a New Life
Paperback
Description
In Nothing is Impossible: Reflections on a New Life, Christopher Reeve challenges readers not to accept limitations - those set by oneself or by others - but to harness our untapped resources.
Christopher Reeve has mastered the art of turning the impossible into the inevitable. In Nothing is Impossible he shows that we are all capable of overcoming seemingly insurmountable hardships. He interweaves anecdotes from his own life with speeches and interviews he's given and with evocative photographs taken by his son, Matthew.
Reeve teaches us that for able-bodied people, paralysis is a choice - a choice to live with self-doubt and a fear of taking risks - and that it is not an acceptable one. Christopher Reeve knows from experience that the work of conquering inner space is hard and that it inevitably requires some suffering - nothing worth having is easy to get, after all. He also asks challenging questions about why it seems so difficult - if not impossible - for us to work together as a society. But he never preaches; he steers the reader gently, reflecting and offering guidance, not the pat answers that often characterise works of inspiration. Nothing is Impossible reminds us that life is not to be taken for granted but to be lived fully with zeal, curiosity, and gratitude. That is a powerful message in itself, but it is the messenger who gives it its full resonance.
Information
Format: Paperback
Pages: 208 pages
Publisher: Cornerstone
Publication Date: 04/09/2003
Category: Autobiography: general
ISBN: 9780099446590
Free Home Delivery
on all orders
Pick up orders
from local bookshops