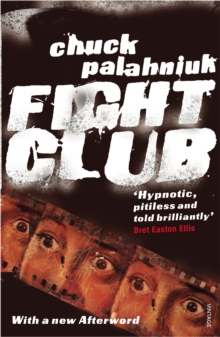 Description
Every weekend, in basements and parking lots across the country, young men with good white-collar jobs and absent fathers take off their shoes and shirts and fight each other barehanded for as long as they have to.
Then they go back to those jobs with blackened eyes and loosened teeth and the sense that they can handle anything.
Fight Club is the invention of Tyler Durden, projectionist, waiter and dark, anarchic genius. And it's only the beginning of his plans for revenge on a world where cancer support groups have the corner on human warmth.
Information
Format: Paperback
Pages: 224 pages
Publisher: Vintage Publishing
Publication Date: 01/01/1992
ISBN: 9780099765219
Other Formats
EPUB from £4.99
Hardback from £17.89
Paperback from £11.39
Free Home Delivery
on all orders
Pick up orders
from local bookshops
Reviews
Showing 1 - 5 of 9 reviews.
Previous | Next
Review by soylentgreen23
16/06/2015
So, I guess I am not a beautiful and unique snowflake after all. Palahniuk's novel dispenses with such amazing pop-culture wisdom on nearly every page; the violence he presents is like hedonism, and entirely homoerotic. In ten years, people will be writing their thesis papers on this book, I can assure you.
Review by miketroll
16/06/2015
It is impossible to underestimate this book. It is an utterly worthless piece of dried mucus, the literary equivalent of an invitation to suck a frozen dog turd. Images of that kind are typical of the book itself, an incoherent stream of gratuitous unpleasantness: blood, condoms in toilets, eyelids removed with razor blades, self-inflicted cigarette burns. Enough! You get the idea.The fashion for this kind of writing seems cyclical. The nihilistic drivellings of William Burroughs and Leonard Cohen were cool back in the 60s. "Nihilistic" is actually too fine a word for it; "punk lit" or "shit lit" may serve better. Its spirit is encapsulated in a few quotes from Fight Club:"I wanted to destroy everything beautiful that I'd never have….I wanted to kill all the fish I couldn't afford to eat, and smother the French beaches I'd never see. I wanted the whole world to hit bottom.""I am the all-singing, all-dancing crap of this world…..I am the toxic waste by-product of God's creation."OK, so you're feeling bad and your self-esteem is low. Is that a good enough reason to leave dog shit in a burning bag on your neighbour's doorstep? That's what Palahniuk does with this book.
Review by ernoh
16/06/2015
Review by arsmith
16/06/2015
Much better and more satisfying than the movie. Although I still watch the film when I get a hankering for some cuddly Portland anarchy.
Review by badrabbyt
16/06/2015
chuck is a quirky and brilliant writer. my favorite bit in the book is when marla finds out they're using human fat to make the soap. and she figures out that specifically, it's her mother's fat. so, she's trying to save her mother's lipo'd fat by having a tug-of-war with the narrator. it's a great scene that wasn't in the movie. oh well.