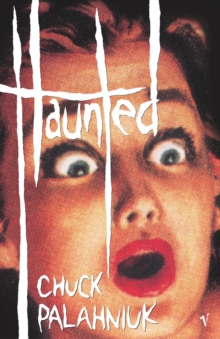 Description
Haunted is a novel made up of stories: twenty-three of the most horrifying, hilarious, mind-blowing, stomach-churning tales you'll ever encounter.
They are told by the people who have all answered an ad headlined 'Artists Retreat: Abandon your life for three months'.
They are led to believe that here they will leave behind all the distractions of 'real life' that are keeping them from creating the masterpiece that is in them.
But 'here' turns out to be a cavernous and ornate old theatre where they are utterly isolated from the outside world - and where heat and power and, most importantly, food are in increasingly short supply. And the more desperate the circumstances become, the more desperate the stories they tell - and the more devious their machinations to make themselves the hero of the inevitable play/movie/non-fiction blockbuster that will certainly be made from their plight.
Information
Format: Paperback
Pages: 432 pages
Publisher: Vintage Publishing
Publication Date: 01/05/2006
Category: Horror & ghost stories
ISBN: 9780099458371
Free Home Delivery
on all orders
Pick up orders
from local bookshops
Reviews
Showing 1 - 4 of 4 reviews.
Review by ErasmusBee
16/06/2015
Haunted is a book of short stories that are tenuously linked by a longer story. The longer story is terrible; it is extremely boring and were I to read this book again I would skip it all. The short stories are a bit more variable. The first story, "Guts", is the most disgusting thing I have ever read. I couldn't read it all in one go, and it was only after reading the Afterward, which said that the story should be funny and not horrifying, that I finished Guts. The remaining short stories are not quite as unpleasant, but some are better than others. I have read other works by Chuck Palahniuk, and frankly, they are better than this.
Review by Lee1980
16/06/2015
I have finished reading 'Haunted' I found it to be one of the more macabre novel's I have read (I have read a few) although at the same time hilarious and extremely witty and had me engrossed from cover to cover. 'Haunted' is made up of a series of short stories poems and an overall story which links the whole novel together. At times this is very well done and purveys Palahniuk style but at the same time can leave you feeling that a bit more could have been done. The characters in the novel have a limited depth to them however the style in which this novel is done they don't really need to. The novel will not to everyone liking and I have read numerous review that discredit the novel especially the short story 'Guts'. Having said that I did find the novel to be to my perverse and morbid taste and would recommend this to anyone of a like mind.
Review by avhacker
16/06/2015
i really enjoued this book!!! it was very very disturbing but made me think about everthing. the most disturbing story i think was the last one it was very very creepy.
Review by adpaton
16/06/2015
Haunted is a work in the Decameron-Canterbury Tales mode, where a group of people come together and tell stories. Well, sort of. Palahniuk has 17 misfits trap themselves in a deserted theatre on a writer's workshop, together with the organiser [soon killed off] and his nurse/companion. Instead of taking the opportunity to create meaningful prose , the candidates decide unanimously that the experience they are undergoing is the story, and resolve to make it more dramatic by reversing the conditions of their envirnoment. Air conditioning, food, running water - all are tampered with to create a shocking and harrowing account. As the book continues, so the characters resort to increasingly extreme and disturbing measures to distinguish themselves from their fellow sufferers. At the same time, Palahniuk is telling their stories: each is given a name discriptive of their personality [eg. Comrade Snarky, Lady Baglady, Sister Vigilante] and has their own 'poem' and 'tale' It is these tales that form the central core of the book and which have caused the most controversy, because Haunted seems to be a book you love or hate. Distubing, dark, gross-out, funny, erotic, disgusting - all these terms and more are used to label the little histories Chuck tells. Personally, although I am not a huge fan of his writing, I found this book intriguing and very morish. And I LOVED 'Guts'.