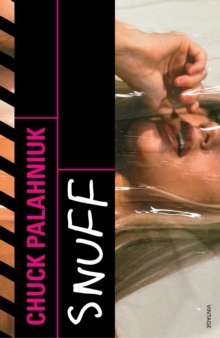 Description
Cassie Wright, porn princess, intends to cap her legendary career by breaking the world record for serial fornication.
On camera. With six hundred men. Snuff unfolds from the perspectives of Mr 72, Mr 137 and Mr 600, who await their turn on camera in a very crowded green room...
Information
Format: Paperback
Pages: 208 pages
Publisher: Vintage Publishing
Publication Date: 01/06/2009
ISBN: 9780099499374
Free Home Delivery
on all orders
Pick up orders
from local bookshops
Reviews
Showing 1 - 5 of 5 reviews.
Review by gward101
16/06/2015
Whenever I see a review which begins with the words 'X is one of my favourite authors' I start anticipating the 'but'. So maybe I should begin by telling you that Chuck Palahniuk is one of my favourite authors. Choke, Fight Club, Lullaby, Survivor - I've enjoyed them all. The subject matter of most of these books could of course be described as gritty, I'm sure some would even say shocking. Palahniuk's plot lines have never been very far from the knuckle. And here it comes... BUT... no matter how gritty the details in his previous books for me the author has never set out to outrage anyone, it's just the way the stories have shaped up. That's not something I would say about Snuff. The story line of a porn star who sets out to break the world record for 'serial fornication' - as the back cover blurb so delicately puts it - just smacks to me of an author who has sat down in front of a blank sheet of paper and though 'hmm, how can I make sure I keep up my reputation for being outrageous'. That said, Snuff was an entertaining enough read, if not up to the high standards of Palahniuk's previous novels. I just hope it's not an indication that one of my favourite authors is running out of ideas.
Review by clstaff
16/06/2015
Yet another mesmerizing book by Palahniuk. Gives a vivid insight into the world of record breaking gang-bangs. His style is so colloquial, you can really identify with his characters...especially if you are a sex addicted deviate.
Review by avhacker
16/06/2015
disturbing and funny as usual!i liked this book alot! took me 3 days to read and i think anyone who enjoy's palahnuiks work will love this!
Review by elliepotten
16/06/2015
This is a novel about a record-breaking gang-bang featuring one legendary porn queen and six hundred obliging men. Except... it's not. Because Palahniuk's never as simple as that. Told from alternating and often conflicting viewpoints - Numbers 72 (a young man), 137 (a shamed TV star) and 600 (a porn veteran), and the 'talent wrangler', Sheila - this is actually a novel about the seediness of the adult entertainment industry, the vacuity of Hollywood and the deceptive nature of screen beauty. At the opening of the book, everyone looks good and has a reputation to uphold; by the end their secrets have been revealed and the layers of makeup and ego and personal history have been peeled away to reveal something uglier, smaller and deeply sad. It didn't rock my world like <i>Rant</i>, which I still occasionally find myself mulling over nearly a year on - but if you're not easily offended it was a relatively quick read and still pulled me on at breakneck pace towards the inevitable bizarre finale...<b>Favourite part:</b> Palahniuk's trademark devotion to throwing in loads of pithy little facts about his subject, the more offbeat the better - I stopped every few pages to Google something, only to find it <i>was</i> actually true and not just part of his fiction. If nothing else, this novel has been an excellent source of genuinely interesting trivia to throw at people over the last few days!
Review by martensgirl
16/06/2015
I really enjoyed this book despite the subject matter. The back-stories of the characters were interesting and Palahniuk's prose often went into great detail about the minutiae of the porn industry. Having read Fight Club and Haunted, this did not surprise me.