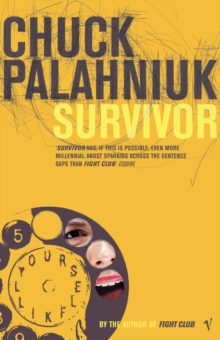 Description
Tender Branson, the last surviving member of the Creedish death cult, has commandeered a Boeing 747, emptied of passengers, in order to tell his story to the plane's black box before it crashes.
Brought up by the repressive cult and, like all Creedish younger sons, hired out as a domestic servant, Tender finds himself suddenly famous when his fellow cult members all commit suicide.
As media messiah he ascends to the very top of the freak-show heap before finally and apocalyptically spiralling out of control.
Information
Format: Paperback
Pages: 304 pages
Publisher: Vintage Publishing
Publication Date: 01/08/2000
ISBN: 9780099282648
Other Formats
Paperback from £12.85
EPUB from £3.99
eAudiobook MP3 from £14.24
Free Home Delivery
on all orders
Pick up orders
from local bookshops
Reviews
Showing 1 - 5 of 11 reviews.
Previous | Next
Review by kyleblack
16/06/2015
A bit heavy with the post-apoc style but a good read anyhow. I always get a kick out of how Chuck P. seems to have a database of crazy trivial facts, like ways to get blood off your hands or a trick for burying a body. What did this guy do before he wrote books, hmmm. Didn't "blow my mind" like Fight Club did when I read that as a kid, but I think thats just because I've read a lot more since then. Great for anyone interested in twisted cults and post-apoc lit. Nice light read for me but could be a bit heavy and depressing to some I suppose.B
Review by stillbeing
16/06/2015
This has to be my favorite Palahniuk novel so far - I'm a slow reader, but I managed to finish this in two days, and it even got smuggled into lectures (though I was good and managed to supress giggles. I'm dreadful for laughing aloud whilst reading anything humorous). It's addictive, and although you might know what's coming, you can't help but to be gripped until the climax.
Review by arsmith
16/06/2015
Very immersive, compelling read. Provokes discussion about our societies and feelings of belonging.
Review by MrBookface
16/06/2015
Young guy from religous cult goes and - hang on, I've forgotten. Better go back and re-read before I say anymore. Still, I do remember enjoying this book very much.
Review by ngeunit1
16/06/2015
Simply said, this is among my favorite novels I have ever read and I think it is the best of Chuck Palahniuk's works (at least up to 2010). In what has become fairly commonplace among Chuck novels, we begin the novel by getting a glimpse at the end before really understanding what is actually going on and why. This does a great job of really establishing a tone for the story and sparking an intial flair to get the reader really interested early on. Set up as Tender Branson giving his account of his life, trying to give some meaning and justification to it to the black box recorder or an airplane he is setting out to crash, the narrator does a great job of walking us through his life and giving us a real good understanding of what has drove him to this point. While Palahniuk is never really subtle about the themes he is setting out to explore in his novels, I think he really does a great job in this novel of discussing free will, especially though interactions with Fertility. The relationship between Tender and Fertility is overall very interesting and does a good job of really showcasing the changes that each of the characters goes through as the novel progresses. By giving us a glimpse into the future before stepping back to explain the past, it gives the reader a chance to really analyze the events throughout the story relative to what we know is eventually going to happen. I think while this is sometimes overused and used ineffectively, it works remarkably well here. Palahniuk also does a great job in this novel as always of interjecting some really witty and cleaver sections of the novel that really keep it overall entertaining and enjoyable while being so dark at the same time. Overall, this is a great book, and I would recommend it anyone that is looking for a something just a little bit different or someone that is looking to give Chuck Palahniuk a shot.