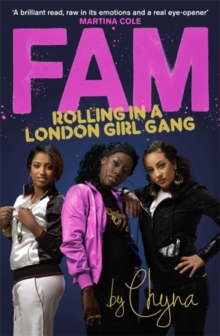 Fam : Rolling in a London Girl Gang
Paperback
Description
'A brilliant read, raw in its emotions and a real eye-opener.'Martina ColeMy name is Chyna.
When I was thirteen years old I became part of a girl gang.
This is my story.Chyna was born in the middle of gangland UK.
From a young age she saw people all around her in gangs.
They had the status, the ghetto-fabulous look and the money.
So when girls from a rival school started picking on Chyna and her friends, they decided to take control of their lives and form their own gang.
They called it Nothing 2 Lose. Soon Chyna was caught up in a world of thiefing phones, shoplifting and shanks.
She rolled tight with her fam. The risk of arrest and beatings was always present, but so were the rewards: fast p's, bare liquor and draw, and the thrill of being above the law.
Then boys came into their lives, and Chyna and her friends were attracted to some of gangland's most notorious boys.
Now Chyna had found herself in a very glamorous world with VIP tables at the most exclusive clubs, big p's lavished on bling and champagne.
She was living the highlife as the girlfriend of one of London's most feared gangstas.The deeper she got into this world, the more she discovered the dark side.
The guns, the vicious drug dealers, the constant threat of prison: Chyna knew she had to find a way out.
But it would take a devastating tragedy - one that ripped apart her world - before Chyna found the courage to leave gangland behind once and for all. 'Rich and dazzling.'The Sunday Times'This emotional story of a girl born on a tough London estate provides a shocking eye-opener on gang culture . . . gritty and hard-hitting . . . Written in London slang, the story has a real spirit which really shines through.'New of the World'A scary insight into the lives of youngsters born into poverty in Britain.'Sun'This isn't an expose to ease middle-class guilt.
We're not asked to pity Chyna. Nor does FAM seek to glamourise the horrors of gang life.
It is, simply, crudely, an account of a side of London you probably know absolutely nothing about and about which very little is written (aside from social care reports).
These are the intimidating girls at the back of the bus, the kids storming through shopping centres, the ones who mug you for your phone and purse, the names in the newspaper your eyes sip over following yet another stabbing on a council estate.'Time Out
Information
Format: Paperback
Pages: 416 pages, none
Publisher: Hodder & Stoughton General Division
Publication Date: 01/05/2011
Category: Memoirs
ISBN: 9781444714302
Free Home Delivery
on all orders
Pick up orders
from local bookshops
Also by Chyna