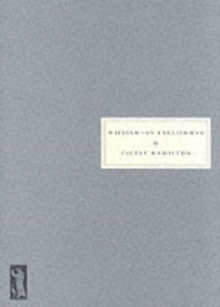 William : An Englishman
Paperback
Information
Format: Paperback
Publisher: Persephone Books Ltd
Publication Date: 20/03/1999
ISBN: 9780953478002
Free Home Delivery
on all orders
Pick up orders
from local bookshops
Reviews
Showing 1 - 5 of 8 reviews.
Previous | Next
Review by jaine9
16/06/2015
A fascanating book about the 1st World War published in 1919. The author had been in France since 1914. The book opens with a young couple who get married and go to a cottage in Belgium for their honeymoon. They are unaware of the outbreak of war and get caught up in it.
Review by Kasthu
16/06/2015
William: An Englishman is a bleak tale about William Tully, a young man who takes his honeymoon to Belgium on the eve of WWI. A naïve man, he is completely inexperienced and completely unprepared for what he is about to witness. He is a Socialist, and his wife, Griselda, a suffragette, so they are both rather idealistic as well. William and Griselda, have no idea about what's going on in the outside world, and they make flippant comments about men playing at war while the war really begins in earnest around them.This is a short novel, but a very powerful one, with an even more powerful message, about the difference between the horror of war and the naïveté of the main character. Cicely Hamilton wrote this novel sitting in a khaki tent during the war, so she understood as well as anybody the emotions that the war created. William's despair as the novel goes on is almost palpable. I loved seeing the contrast between the pastoral, idyllic Ardennes, and the battlefront, and seeing how William reacts to it. I get the impression from reading this book that the author was rather angry while writing it; but it's a controlled anger, that seethes just on the surface.The other tragedy of William's life is his physical size; he's 5'5 (which isn't that short, actually, just too short for the British military at the time she tried to enlist), and that emphasis on his physical size is what makes him all the more pathetic in the reader's eyes. In all other ways, he is completely average. But given the way that life treats him in this book, you almost want to reach out and give him a hug. I loved watching William's transformation; one that seems completely plausible. The author does jump from the beginning of the war to nearly the end; but she does it mostly to show how much the war has affected William. In all, this is an excellent novel—albeit a dark one.
Review by romain
16/06/2015
William and Griselda Tully playing at politics are - to paraphrase Harold Nicholson - 'like 2 curates entering a pub for the first time'. Inevitably, however, this hapless pair find themselves face to face with the militarism they have been demonstrating against only to learn that moral indignation, indeed moral certainty, are worse than useless against brute force. William: an Englishman is a book that works on many levels. It is an anti-war novel written from the civilian perspective, with a strong emphasis on the chaos of the dispossessed in flight from the invader. But it is also a book about personal loss, in particular the loss of innocence, standards and, finally, hope.An excellent first choice for the Persephone Press.
Review by lauralkeet
16/06/2015
This novel describes the earliest days of World War I, as seen through the eyes of a young Englishman. William and his new wife Griselda leave on their honeymoon just before the conflict breaks out. They have let a cottage in the Belgian countryside, and asked not to receive mail or newspapers. They also have no command of the language. They pass their days relaxing, taking walks, having picnics, and enjoying the countryside. Their landlady attempts to describe events unfolding in the wider world; they understand she is distressed but assume it is a domestic matter. In due course William and Griselda encounter German soldiers, and one has sufficient command of English to enlighten them. William and Griselda are taken away from their idyllic holiday spot, and exposed to unimaginable horrors. The story held my interest up to this point because of the setting and premise. The novel continued in a fashion familiar to those who have read other works about the Great War, and lacked the emotional impact of other works set in this period.
Review by rainpebble
16/06/2015
William, An Englishman by Cicely Mary HamiltonI've just finished William, an Englishman. I did not find it awfully engaging but am glad I read it. I must say that Hamilton's style of writing is quite different. William & Griselda are young lovers who met at political rallies & meetings. They are against their country going to war but are innocents & unknowledgeable about the world around them. They are only focused on each other & their anti-war meetings, pamphlets, flyers & protesting the war. They attend war rallies and disrupt them, getting themselves drug outside, etc. Other than this they really have no lives. They decide to marry and take a 3 week honeymoon in the Belgian Ardennes at the behest of a fellow revolutionist who owns a cabin there. They, neither one, speak or understand the French language. Having had a lovely honeymoon, they leave on foot to travel to the train station expecting to return home to England. But on the way the war catches up with them and they are unwittingly captured by the Germans who have taken Belgium. They are separated and both are in deep shock as they neither one know anything about actual war & warfare but only about protesting. The Germans who capture them are not interested in verbal disputing & do as they will with them. At this point the book goes from being a genial story to becoming rather a horrendous war story about these two young persons, especially William. The couple are not prepared either mentally nor physically for the occurrences of wartime.I was caught up in the beginning, then came a great bit of what seemed to me to be 'stream of consciousness' to wade through, then back to the war......... Like I said I am glad I read it and it gave me a different insight into the Great War period of time. Overall I think it was just an okay read for me. I shall have to ponder it over time & see how I truly feel about it. But perhaps that is one of the marks of a good/great book.