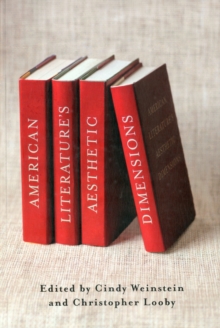 American Literature's Aesthetic Dimensions
Paperback / softback
Description
Rethinking the category of aesthetics in light of recent developments in literary theory and social criticism, the contributors to this volume showcase the interpretive possibilities available to those who bring politics, culture, ideology, and conceptions of identity into their critiques.
Essays combine close readings of individual works and authors with more theoretical discussions of aesthetic theory and its relation to American literature.
In their introduction, Weinstein and Looby argue that aesthetics never left American literary critique.
Instead, the essay casts the current "return to aesthetics" as the natural consequence of shortcomings in deconstruction and new historicism, which led to a reconfiguration of aesthetics.
Subsequent essays demonstrate the value and versatility of aesthetic considerations in literature, from eighteenth-century poetry to twentieth-century popular music. Organized into four groups-politics, form, gender, and theory-contributors revisit the canonical works of Henry James, Nathaniel Hawthorne, and Stephen Crane, introduce the overlooked texts of Constance Fenimore Woolson and Earl Lind, and unpack the complexities of the music of The Carpenters. Deeply rooted in an American context, these essays explore literature's aesthetic dimensions in connection to American liberty and the formation of political selfhood. Contributors include Edward Cahill, Ivy G. Wilson, June Ellison, Dorri Beam, Christopher Castiglia, Christopher Looby, Wendy Steiner, Cindy Weinstein, Trish Loughran, Jonathan Freedman, Elisa New, Dorothy Hale, Mary Esteve, Eric Lott, Sianne Ngai
Information
Format: Paperback / softback
Pages: 440 pages, <B>B&W Illus.: </B>,
Publisher: Columbia University Press
Publication Date: 17/07/2012
Category: Literary studies: general
ISBN: 9780231156172
Free Home Delivery
on all orders
Pick up orders
from local bookshops