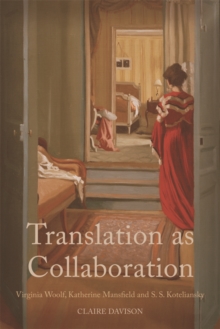 Translation as Collaboration : Virginia Woolf, Katherine Mansfield and S.S. Koteliansky
Hardback
Description
This book examines the translations from Russian by S.
S. Koteliansky, Virginia Woolf and Katherine Mansfield, 1916-1923.
This study looks at the translation work of Virginia Woolf and Katherine Mansfield in association with S.
S. Koteliansky focusing on their collaborative translations as dialogue.
It shows that the translations they made were not just marginal, editing activities but aesthetically innovative, creative involvements which impacted on their own writings as well as broadening the scope of modernist poetics as a whole.
Providing in-depth textual readings, the five chapters explore: thematic and biographical interweaving, musicality and textual poetics, translating, subversion and gender, textual creation in editing and montage, and translation and new biography.
This powerful new book demonstrates that translation was a modernist laboratory, where foreign languages provided contact zones enabling writers to think outside any one tradition or literary heritage.
This is the first in-depth study of the impact that translating from the Russian had on these individual writers as well as on the shaping of modernist poetics in general. It feeds into a recent renewal of interest in the intense era of Russian fever in the early 20th century.
It focuses on the processes of translating including negotiations with style, voice, and textual rhythm.
It tackles the cultural and historical dynamics of translation, charting a tangible link between aesthetic readings of modernism and later more historiographical approaches.
Information
Format: Hardback
Pages: 208 pages
Publisher: Edinburgh University Press
Publication Date: 16/06/2014
Category: Translation & interpretation
ISBN: 9780748682812