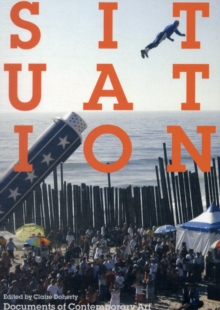 Situation
Paperback / softback
Description
Part of the acclaimed 'Documents of Contemporary Art' series of anthologies. A unique set of conditions produced in both space and time and ranging across material, social, political and economic relations, Situation is now a key concept in 21st-century art.
This anthology traces its evolution from the 1960s emergence of site-specific art to its divergent implications in the global era.
Among the topics surveyed are the limits of site; the role of the artist as ethnographer or fieldworker; the relation between action and public space; the meaning of place and locality; and the crucial role of the curator in new situation-specific art. Artists surveyed include: Vito Acconci, Allora & Calzadilla, Francis Alys, Carl Andre, Artist Placement Group, Michael Asher, Amy Balkin, Ursula Biemann, Bik Van der Pol, Daniel Buren, Victor Burgin, Janet Cardiff, Center for Land Use Interpretation, Adam Chodzko, Tacita Dean, Elmgreen & Dragset, Andrea Fraser, Hamish Fulton, Dan Graham, Liam Gillick, Renee Green, Group Material, Douglas Huebler, Bethan Huws, Pierre Huyghe, Robert Irwin, Emily Jacir, Ilya Kabakov, Julius Koller, Langlands & Bell, Ligna, Richard Long, Gordon Matta-Clark, Cildo Meireles, Jonathan Monk, Robert Morris, Gabriel Orozco, Adrian Piper, Walid Ra'ad, Raqs Media Collective, Paul Rooney, Martha Rosler, Richard Serra, Situationist International, Tony Smith, Robert Smithson, Vivan Sundaram, Rirkrit Tiravanija, Lawrence Weiner, Rachel Whiteread, Krzysztof Wodiczko and Qiu Zhijie. Writers include: Arjun Appadurai, Hannah Arendt, Marc Auge, Wim Beeren, Josephine Berry Slater, Daniel Birnbaum, Ava Bromberg, Markus Bruderlin, Susan Buck-Morss, Jon Bywater, Michel de Certeau, Douglas Crimp, Gilles Deleuze, T.
J. Demos, Rosalyn Deutsche, Charles Esche, Graeme Evans, Patricia Falguieres, Hal Foster, Hou Hanru, Mark Hutchinson, Mary Jane Jacob, Vasif Kortun, Hari Kunzru, Miwon Kwon, Lu Jie, George E.
Marcus, Doreen Massey, James Meyer, Ivo Mesquita, Brian O'Doherty, Craig Owens, Jane Rendell, Simon Sheikh, Jan Verwoert and Peter Weibel
Information
Format: Paperback / softback
Pages: 240 pages
Publisher: Whitechapel Gallery
Publication Date: 04/09/2009
Category: Theory of art
ISBN: 9780854881734
Also in the Documents of Contemporary Art series | View all