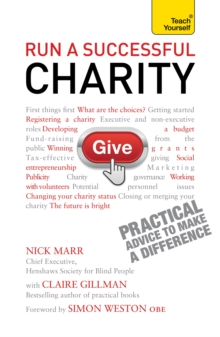 Run a Successful Charity: Teach Yourself
Paperback / softback
Description
Running a charity is a unique and exciting challenge.
All you need is drive, passion - and this book. Teach Yourself: Running a Charity is the complete practical guide for anyone who is involved with setting up or running a charity.
So whether you are a worker or colunteer in the third sector, a charity trustee, or are considering starting a charity yourself, this book will tell you everything you need to know, right from the beginning.
It includes bang-up-to-date advice on charity registration and governance, proven tips for fund-raising and publicity, and practical insight into the day-to-day and strategic challenges of running a charity.
Nick Marr, the author, is a well-known charity leader who has been there and done it for over 25 years.
His coauthor, Claire Gillman, is a writer and editor who has had 15 non-fiction books published, and is highly respected for her ability to provide useful information in a readable and motivating way.
Information
Format: Paperback / softback
Pages: 224 pages
Publisher: John Murray Press
Publication Date: 27/12/2013
ISBN: 9781444191233