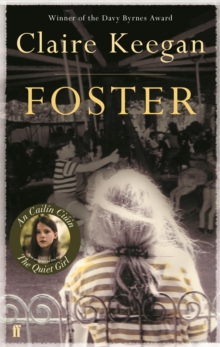 Description
A small girl is sent to live with foster parents on a farm in rural Ireland, without knowing when she will return home.
In the strangers' house, she finds a warmth and affection she has not known before and slowly begins to blossom in their care. And then a secret is revealed and suddenly, she realizes how fragile her idyll is. Winner of the Davy Byrnes Memorial Prize, Foster is now published in a revised and expanded version.
Beautiful, sad and eerie, it is a story of astonishing emotional depth, showcasing Claire Keegan's great accomplishment and talent.
Information
Format: Paperback
Pages: 96 pages
Publisher: Faber & Faber
Publication Date: 02/09/2010
ISBN: 9780571255658
Other Formats
EPUB from £4.79
Hardback from £100.00
Free Home Delivery
on all orders
Pick up orders
from local bookshops
Reviews
Showing 1 - 3 of 3 reviews.
Review by martymojito
16/06/2015
What an amazing book. This is quite a short novel, probably should be considered a novella. It concerns a young girl who is sent live with her Aunt and Uncle while her mother is having another child. Her parents are obviously poor and have problems while her Aunt and Uncle seem very loving. But they hold a dark secret that is reveaved later in the book. But there is an edge to this story. All of the time we feel that the girl is in some mysterious kind of danger, maybe that she will be the victim of child abuse perhaps? Is this a reflection of the society that we live in that we expect the young girl to be hurt in some way? Can the relatives really be trusted when seeming so kind? It is a terrific read, a book that I read in one sitting and would recdommend highly.
Review by kewing
23/09/2015
Foster is a very short novel, not even really a novella--more like an extended short story published in the New Yorker in 2010--but there is an emotional and compassionate depth that captures the reader and lingers long after the reading. The foster parents (aunt and uncle) hold a secret, a hidden trauma, that is slowly revealed through their emotional attachment with the child narrator. This secret doesn't seem to carry the shame mentioned early in the story, although it is probably felt by the foster parents. Similarly, there seems to be a secret withheld by the narrator and at least in part known by the foster parents that's never fully revealed. This is an emotionally powerful story well worth reading.
Review by DubaiReader
16/06/2015
A pastiche of life in rural Ireland.I read the New York Times version of this book, rather than the "revised and expanded version" mentioned in GoodReads. At £4.29 for less than 100 pages this must be one of the most expensive Kindle books I've come across, so I declined to purchase the Amazon version.It was chosen as a book group read by one of our Irish members and she certainly related to it as a taste of her youth and upbringing. I was raised in England and not in a Catholic community, so it was less familiar, but quite engaging all the same. The nameless eight-year-old girl who is shipped off to stay with relatives for the summer while her mother gives birth to her fifth (?) sibling, is quite charming and asks very little from her hosts. She expects to be put to work and is endearingly pleased to find herself cherished in a way that she had never experienced in her own family.There are various day-to-day events that build up to a way of life that is beautifully illustrated, Behind the scenes lurks a past event that colours the lives of the foster parents, but not in such a way as to make our heroine uncomfortable. The most distressing part is the farewell, when she returns to her family for the new school year.I suspect that this scene would have been reworked in the expanded novella because it was quite strange in my version and none of us were quite clear what actually happened.I'd like to read the full version at some point, maybe my library can order it. It would be interesting to see what has been added and how it affects my understanding and interpretation of the story.