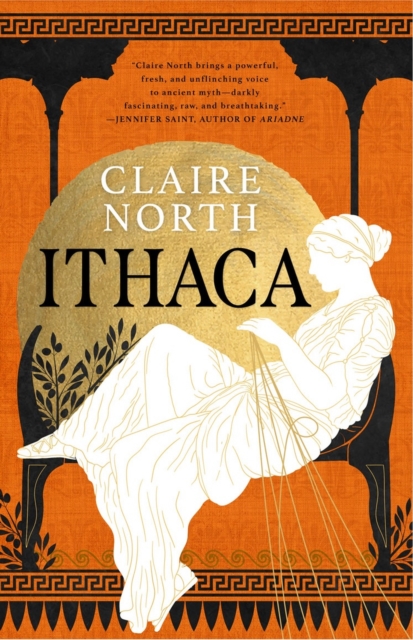 Ithaca : The exquisite, gripping tale that breathes life into ancient myth
Paperback / softback
Description
'Claire North brings a powerful, fresh and unflinching voice to ancient myth - darkly fascinating, raw and breathtaking' Jennifer Saint, author of Sunday Times bestseller Ariadne***A Sunday Times Historical Fiction Book of the Year***This is the story of Penelope of Ithaca, famed wife of Odysseus, as it has never been told before.
Beyond Ithaca's shores, the whims of gods dictate the wars of men.
But on the isle, it is the choices of the abandoned women - and their goddesses - that will change the course of the world. 'The greatest power we women can own is that which we take in secret.'Seventeen years ago, King Odysseus sailed to war with Troy, taking with him every man of fighting age from the isle of Ithaca.
None of them has returned, and the women of Ithaca have been left behind to run the kingdom. Penelope was barely into womanhood when she wed Odysseus.
While he lived, her position was secure. But now, years on, speculation is mounting that her husband is dead, and suitors are beginning to knock at her door. No one man is strong enough to claim Odysseus's empty throne - not yet.
But as everyone waits for the balance of power to tip, Penelope knows that any choice she makes could plunge Ithaca into bloody civil war . . . From the multi award-winning Claire North comes a daring, exquisite and moving tale that breathes life into ancient myth, and tells of the women who stand defiant in a world ruled by ruthless men.
It's time for the women of Ithaca to tell their tale . . . 'Everything I've wanted in a retelling: a vibrant cast, full of suspense, told with a phenomenal narrative voice - this is an absolute masterpiece' Sarah Bonner, author of Her Perfect Twin'Told in the arresting voice of the goddess Hera . . . Ithaca conjures up a world in which women, abandoned by their men, must weave their own destinies' The Times'Richly poetic . . . This is an impassioned plea for the lost, disenfranchised queens of ancient Greece, a love letter to the silenced women of history' Booklist'Claire North has set a new standard for Ancient Greek retellings.
Absolutely sublime' Hannah Lynn, author of Athena's ChildThe Songs of Penelope novels:Ithaca House of Odysseus
Information
Format:Paperback / softback
Pages:432 pages
Publisher:Little, Brown Book Group
Publication Date:20/04/2023
Category:
ISBN:9780356516066
Information
Format:Paperback / softback
Pages:432 pages
Publisher:Little, Brown Book Group
Publication Date:20/04/2023
Category:
ISBN:9780356516066
Also in the The Songs of Penelope series