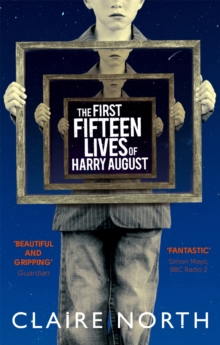 The First Fifteen Lives of Harry August
Paperback
Description
*** Featured in the Richard and Judy Book Club ****** Featured in the Waterstones Book Club ****** Featured on BBC Radio 2 Book Club ***Harry August is on his deathbed.
Again. No matter what he does or the decisions he makes, when death comes, Harry always returns to where he began, a child with all the knowledge of a life he has already lived a dozen times before.
Nothing ever changes.Until now.As Harry nears the end of his eleventh life, a little girl appears at his bedside. 'I nearly missed you, Doctor August,' she says. 'I need to send a message.'This is the story of what Harry does next, and what he did before, and how he tries to save a past he cannot change and a future he cannot allow.Praise for Claire North:'North's talent shines out' Sunday Times'Little short of a masterpiece' Independent'Poignant and intensely gripping' Guardian'Well-paced, brilliant and balanced' New York Times'Extraordinary . . . wildly impressive' Lucy Hughes-Hallett, BBC Radio 4'Utterly readable, utterly believable and compelling . . . one of the fiction highlights of the decade' Judy Finnigan, Richard and Judy Book ClubAlso by Claire NorthNovels:TouchThe Sudden Appearance of Hope (winner of the World Fantasy Award 2017)The End of the Day (shortlisted for the Sunday Times/PFD Young Writer of the Year Award 2017)Digital novellas:The Serpent: Gameshouse Novella 1The Thief: Gameshouse Novella 2 The Master: Gameshouse Novella 3
Information
Format: Paperback
Pages: 448 pages
Publisher: Little, Brown Book Group
Publication Date: 26/08/2014
Category: Science fiction
ISBN: 9780356502588
Free Home Delivery
on all orders
Pick up orders
from local bookshops
Reviews
Showing 1 - 3 of 3 reviews.
Review by Alirob
16/06/2015
The best book I've read this year.
Review by iansales
16/06/2015
Found this in a charity shop, had heard it mentioned here and there, understood it to be not unlike Kate Atkinson's Life After Life (which I thought good), so decided to give it a go. And yes, I did enjoy it. The prose is nice and breezy, the central premise – people who relive their lives over and over again – was handled quite cleverly, and the eponymous protagonist was sympathetic and plausible. Plot-wise, the book is less successful – although hinted at on the first page, the plot didn't actually kick into gear until over halfway in, and even then it spent more time on the silly maguffin at the core of the book than it did the far more interesting process by which the villain removed all his enemies. I'd seen mention of North's Touch, due out early in 2015, and thought it might be worth a go. On the strength of The First Fifteen Lives of Harry August, I'll almost certainly be picking up a copy.
Review by wyvernfriend
27/08/2015
Harry August, and it's not his real name, lives the same life over and over, when he dies he goes back to his birth and relives his life, able to change things and make different decisions over the time. After the first few confusing times he learns how it works and that there is a network of people like him, linked by time, doing the same thing. Then things start to get complicated, one of their number seems to have a plan, and it's going to change the world, possibly even end it.It's an interesting read, a different read and I found it well done and eminently readable.