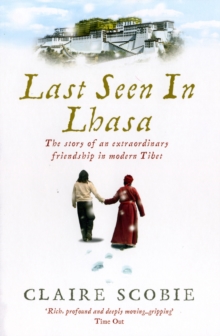 Last Seen in Lhasa : The story of an extraordinary friendship in modern Tibet
Paperback
Description
Some go to Tibet seeking inspiration, others for adventure.
The award-winning journalist, Claire Scobie, found both when she left her ordinary life in London and went to the Himalayas in search of a rare red lily.
Her journey took her to Pemako, where few Westerners have set foot and where the myth of Shangri-la was born.
It was here she became friends with Ani, an unusual Tibetan nun who was to change her life. Through seven journeys in Tibet, Claire chronicles a rapidly changing world - where monks talk on mobiles and Lhasa's sex industry thrives.
But it is Ani, a penniless wanderer with a rich heart, who leaves an indelible impression.
Together, in a culture where freedom of expression is forbidden, they risk arrest. And they forge an abiding friendship, based on intuition and deep respect. Evoking the luminous landscape of snow peaks and wild alpine gardens, Claire Scobie captures the paradoxes of contemporary Tibet, a land steeped in religion, struggling against oppression and galloping towards modernity.
Last Seen in Lhasa is a unique story of insight and adventure that can touch us all.
Information
Format: Paperback
Pages: 256 pages
Publisher: Ebury Publishing
Publication Date: 01/07/2007
Category: Travel writing
ISBN: 9781846040061
Free Home Delivery
on all orders
Pick up orders
from local bookshops
Reviews
Showing 1 - 2 of 2 reviews.
Review by alittlebreeze
16/06/2015
Apart from travel books, I don't read a lot of non-fiction, maybe for the same reason I'm not a great fan of historical fiction. It can get too bogged down in detail, and can lack a narrative trajectory that keeps you engaged.Not so with this book. A journalist from the UK, Scobie first went to Tibet searching for the elusive red lily. The search takes her to eastern Tibet, to the Pemako region. It is during this search that Scobie first met Ani, a Tibetan nun. An unlikely friendship blossoms, and Scobie bravely travels back to Tibet, in search of herself, and Ani, over and over across a period of several years. At the breathless climax of the book, the two make a pilgrimage to Mount Kailash, and together they fall to their knees in supplication before the mountain's north face. I found it incredibly moving.The book is a fascinating record of a changing Tibet (it ends at the completion of the controversial Golmud to Lhasa train line) and a race and way of life that is slowly dying. Over the years, Scobie becomes a part of the fabric of Tibet, its people and its politics, and is able to write with great insight. It's a touching reflection on different kinds of devotion, and Ani is so well described that I could picture this little nun and her big hearty laugh and kind heart perfectly.I'm only more desperate to get to Tibet as soon as I can now.
Review by cajela
16/06/2015
Brit journalist Scobie meets a Tibetan Nun "Ani" and travels with her a number of times, on various adventure trips and pilgrimages in recent Tibet. Scobie learns a lot about the practice of Tibetan spirituality, and how difficult it is under Chinese rule. But she is not too strong on Tibet's complex and difficult history. And naming herself after a goddess seems a bit wanky and off to me.However, the amazing journeys and Ani's extraordinary life story is enough to carry the book. Well worth a look.