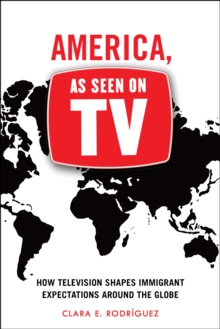 America, As Seen on TV : How Television Shapes Immigrant Expectations around the Globe
Paperback / softback
Description
The surprising effects of American TV on global viewers As a dominant cultural export, American television is often the first exposure to American ideals and the English language for many people throughout the world.
Yet, American television is flawed, and, it represents race, class, and gender in ways that many find unfair and unrealistic.
What happens, then, when people who grew up on American television decide to come to the United States?
What do they expect to find, and what do they actually find?
In America, As Seen on TV, Clara E. Rodriguez surveys international college students and foreign nationals working or living in the US to examine the impact of American television on their views of the US and on their expectations of life in the United States.
She finds that many were surprised to learn that America is racially and economically diverse, and that it is not the easy-breezy, happy endings culture portrayed in the media, but a work culture.
The author also surveys US-millennials about their consumption of US TV and finds that both groups share the sense that American TV does not accurately reflect racial/ethnic relations in the US as they have experienced them.
However, the groups differ on how much they think US TV has influenced their views on sex, smoking and drinking.
America, As Seen on TV explores the surprising effects of TV on global viewers and the realities they and US millennials actually experience in the US.
Information
Format: Paperback / softback
Pages: 240 pages, 6 black and white illustrations
Publisher: New York University Press
Publication Date: 20/03/2018
Category: TV & society
ISBN: 9781479818525