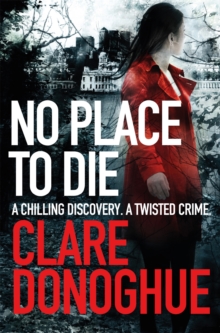 No Place to Die
Paperback
Description
DS Jane Bennett takes charge of South London's Lewisham murder squad following the temporary suspension of her boss, DI Mike Lockyer.
His involvement with a female witness resulted in her murder.
Mike returns to work but he's a shadow of the detective he was a few months before.
Bennett gets a desperate call from an old friend to say that her husband, retired colleague Mark Leech, has gone missing.
Blood spatters found in the home suggest that she doesn't have long to find him.
When Jane is sent to a site in Elmstead Woods she stumbles upon a sinister murder scene.
A tomb has been created, and the body she finds is not Mark's - as she dreaded and suspected - but that of missing university student, Maggie Hungerford.
Her killer recorded her last moments, even providing an air supply which was only cut off when the game lost its thrill.
Two men admit to having had a sexual relationship with Maggie.
Both deny murder. Someone is lying. And Mark is still missing. When another tomb is discovered, an anonymous tip and mounting evidence suggest a disturbing link which threatens to derail both cases and let a murderer walk free. Lockyer is shocked into supporting Bennett in a case which becomes ever more ominous and dangerous as the investigation deepens.
They know that their hunt is for a killer with a mind so twisted that he, or she, is likely to stop at nothing.
Information
Format: Paperback
Pages: 400 pages
Publisher: Pan Macmillan
Publication Date: 12/03/2015
Category: Crime & mystery
ISBN: 9781447239345
Free Home Delivery
on all orders
Pick up orders
from local bookshops
Reviews
Showing 1 - 1 of 1 reviews.
Review by atticusfinch1048
27/08/2015
Never Look Back – Brilliant Follow Up Crime ThrillerNo Place To Die is the excellent follow up to Clare Donoghue's excellent debut thriller Never Look Back, where she introduced us to the Lewisham murder squad headed up by DI Mike Lockyer and DS Jane Bennett. Once again Clare Donoghue will hook the reader with the Prologue and once snared you will want to know how this stunning thriller ends. No Place To Die picks up a couple of months after the previous Steven's case has finished and Lockyer is not the same man especially as he is desk bound and depressed at his current situation. While her boss is brooding Jane Bennett is juggling quite a few cases making sure than none drop while Lockyer is in another world. A former colleague goes missing and there is blood all over his kitchen and Jane has managed to get a search of a nearby wood to be searched after finding a bloodied training shoe is found in Emstead Woods. Here they discover a buried missing student dead in a coffin that has air and a camera rigged up to it. Jane is heading up the investigation and could really do with Lockyer's help but he has his head up his backside, she is getting lots of questions, no evidence and no answers.The breadcrumbs that Jane and the team discover lead back to a previous murder case that was unsolved and to Greenwich University and the Psychology Department. Here they find out more about their victim Maggie Rutherford and that she was dating a doctorial student and also a relationship with a lecturer. With the pressure on Jane seems to be heading nowhere fast and it is not until Lockyer gets involved that things crank in to action and the answers slowly come even when the odd curve ball is thrown in.The pace picks up as the thriller progresses and the urgency could be a matter of life and death, not just for potential victims but for Jane Bennett. Even though the crime at the heart of this novel is extreme and dark the police procedure is clear and it is easy and enjoyable to follow the gathering of evidence and suspects, analyse and arrest. There is also a lot of sympathy in the way that Jane Bennett has to handle her autistic son Peter, her mother who is caring for him while she works and her father who has had a stroke. You can feel the strain Jane is under especially while Lockyer is going through a funk and needs him back in the game.No Place To Die will keep you guessing all the way through to the end of the book and it is a thrilling read from an exciting new crime writer, Clare Donoghue certainly enjoys the twisted crime and the mundane of procedure to write a fun and exciting read. Clare Donoghue is yet another excellent female crime writer that hits all the spots the reader wants from a thriller, who is getting better with her second book. No Place to Die is a gripping read with plenty of atmosphere the right amount of pace and a wonderfully twisted crime and an even more twisted criminal. Mike Lockyer and Jane Bennett are great coppers who we see developing as the series continues and Clare Donoghue's writing goes from strength to strength.
Also in the Detective Jane Bennett and Mike Lockyer Series series | View all