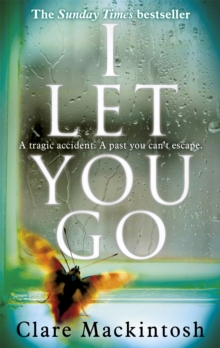 Description
THE SENSATIONAL SUNDAY TIMES BESTSELLER and winner of the Theakston Old Peculier Crime Novel of the Year 2016A tragic accident.
It all happened so quickly. She couldn't have prevented it. Could she?In a split second, Jenna Gray's world descends into a nightmare.
Her only hope of moving on is to walk away from everything she knows to start afresh.
Desperate to escape, Jenna moves to a remote cottage on the Welsh coast, but she is haunted by her fears, her grief and her memories of a cruel November night that changed her life forever.Slowly, Jenna begins to glimpse the potential for happiness in her future.
But her past is about to catch up with her, and the consequences will be devastating . . .**Let Me Lie, the sensational third thriller by Clare Mackintosh is available for pre-order now**
Information
Format: Paperback
Pages: 384 pages
Publisher: Little, Brown Book Group
Publication Date: 07/05/2015
ISBN: 9780751554151
Other Formats
EPUB from £4.99
Paperback from £7.25
Free Home Delivery
on all orders
Pick up orders
from local bookshops
Reviews
Showing 1 - 5 of 5 reviews.
Review by maximeg
27/08/2015
I received this book via @netgalley in exchange for an honest reviewWhere to start? I really enjoyed this book i want to tell you why... however i would not want to spoil any of it for you! a good paced thriller with good characters it. It explores relationships like an onion with layers being peeled away until the twist at the end gets you! a great summer read!
Review by smik
27/08/2015
The story is narrated through a number of voices. The beginning is a hit and run accident on a wet night in which a 5 year old, Jacob, is killed while crossing a surburban road in Bristol with his mother.The case is assigned to Detective Inspector Ray Stevens and his team but it is one of those accidents that has no witnesses and the boy's mother is unable to give any details of the vehicle.The title is inevitably a focus of this book, because the mother did let go the little boy's hand as he ran across the road to their house. But not all of the voices tie in well with the title, and that is where the plot twist comes in. On the back cover Peter James terms the plot twist "astonishing" and I'd have to agree: it certainly took me in.An excellent read. Recommended.
Review by tina1969
23/09/2015
Jenna Grays world is turned upside down in a split second. She has no alternative to leave everything she knows and to start again. Five years old Jacob is killed by a hit and run driver and its up to DI Ray Stevens to find the driver.This book is very much in the vain of Gone Girl, The Girl on the Train and Before I Go to Sleep. Domestic thrillers seem to be the inthing at the moment and for me they make a cracking read.This book is clever. The author did a brilliant job of drawing me in and without giving anything away along comes twist no one. I had to take a breath and thought I had been mistaken and had perhaps read something wrong or missed something out. When twist number two comes along I am well into the story but I have worked it out, but not until the last minute. This book is a good thriller told from several view point. I loved hearing from Jenna and was with het all the way. The book is a solid read wuth plenty going on so I wasn't bored and quite easily wanted to find out what was going to happen. The final twist I think was perhsps too twisty and for the situation to have occured I think was perhaps too unbelievable. An excellant read in the domestic thriller genre and i would look for this author in the future
Review by pgchuis
27/01/2016
LOTS OF SPOILERSThe trouble with reading a book with "an astonishing twist" on the cover and pages of similar quotations at the beginning is that you are always waiting for the twist. When what I presume was "the" twist (there were others), i.e. that Jenna was the (presumed) driver of the car and not the bereaved mother, came along, somehow it wasn't such a shock. I had been finding Jenna puzzlingly unsympathetic anyway, so part of me was glad. I had noted the discrepancies between what we knew of Jenna and what the police believed to be true of the feelings of the bereaved mother towards them, but otherwise it seemed to come out of left field - there was no real sense of appreciation of all the clever clues that had been sown. Also, I don't really understand how the police were suddenly so sure that it was Jenna's car which had been involved in the "accident".I had been finding the first part really slow, despite all the quotes describing the novel as a page turner. The constant switching between the perspectives of Jenna and the police made things really drag for me. The triangle between Ray, Mags and Kate was not terribly original and again I didn't identify enough with any of them to care overmuch for what happened.The beginning of the second half drew me in though, with the chapters from Ian's perspective, where I did feel his character was cleverly revealed step by step. However, once we were alternating between scenes of abuse from the past and scenes of abuse in the present I started to skim. The chapters describing Jenna's experiences in prison/at the police station/in court were very well done and made me hope fervently never to be arrested for anything. Patrick seemed too good to be true and we never did get to find out more about his dead girlfriend.The resolution and the final twist - Ian was the driver - all got a bit melodramatic and that was before we learnt that he had killed his own son intentionally. That was a twist too far for me.
Review by jan.fleming
27/01/2016
Never saw that coming.....