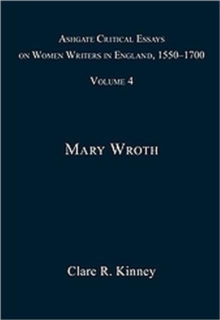 Ashgate Critical Essays on Women Writers in England, 1550-1700 : Volume 4: Mary Wroth
Hardback
Description
The last twenty-five years have seen exciting new developments in scholarly work on Lady Mary Wroth, whose Urania and Pamphilia to Amphilanthus constitute the first romance and the first sonnet sequence to be published by an Englishwoman.
Wroth's writings enter into a suggestive and gendered dialogue with the lyric and narrative works of her uncle, Sir Philip Sidney, even as they carve out a place for her own literary experiments.
This volume gathers together some of the most striking recent criticism addressing Wroth's oeuvre; many of its essays also discuss the intellectual and cultural contexts in which she wrote.
The collection is prefaced by an extended editorial overview of scholarship in the field.