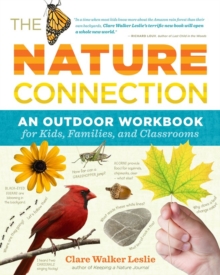 Nature Connection
Paperback / softback
Description
"The Nature Connection" is an interactive workbook chock-full of creative exercises for kids ages 8 to 13.
Leslie begins simply by encouraging children to look out the window and record what they observe: What colour is the sky?
What shapes are the clouds? Are there any birds? What kind? Are there signs of what season it is? Once outdoors, kids are prompted to record the sounds they hear, the ground plants they see, the direction of the wind, the shape and direction of their own shadows, and how each of these change from day to day, season to season. "The Nature Connection" offers dozens of fun things to do during every season: write a poem; make a sketch; tell a story; record the daily sunrise and sunset times for the next month; draw a local map and mark the spots where trees, rocks, animals, and other nature sights reside (and identify each one); keep a moon journal; learn the constellations; or collect leaves and bring them home to sketch and identify.
Sure to engage the whole family in outdoor fun and year-round nature activities, "The Nature Connection" will also stand as a permanent record of a child's unique sightings and experience with nature.
Information
Format: Paperback / softback
Pages: 320 pages, two colour illustrations throughout
Publisher: Storey Publishing LLC
Publication Date: 21/07/2010
ISBN: 9781603425315