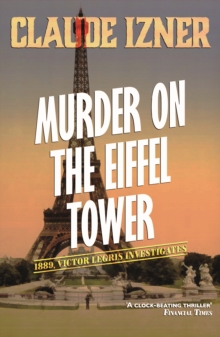 Murder on the Eiffel Tower
Paperback
Description
The brand new Eiffel Tower is the glory of the 1889 Universal Exposition.
But one sunny afternoon, a woman collapses and dies on this great Paris landmark.
Can a bee-sting really be the cause of death? Or is there a more sinister explanation? Enter young bookseller Victor Legris. Present on the Tower at the time of the incident, he is determined to find out what actually happened.
In this dazzling evocation of late 19th Century Paris, we follow Victor as his investigation takes him all over the city.
But what will he do when the deaths begin to multiply and he is caught in a race against time?
Information
Format: Paperback
Pages: 304 pages
Publisher: Gallic Books
Publication Date: 01/05/2007
Category: Historical mysteries
ISBN: 9781906040017
Free Home Delivery
on all orders
Pick up orders
from local bookshops
Reviews
Showing 1 - 5 of 9 reviews.
Previous | Next
Review by AdonisGuilfoyle
16/06/2015
A quirky murder mystery in bohemian Paris. Victor Legris, bookseller by day, is a very amateur detective - the type that jumps to conclusions, and nearly gets himself killed - whose curiousity is piqued by a series of sudden deaths at the Paris Expo of 1889 (the opening of the tower). The murders start with the first chapter, and are as regularly paced as the clues (although I just sat back and enjoyed the story!) 'Claude Izner' is the pen name for two sisters, themselves booksellers on the banks of the River Seine, writing about late nineteenth century Paris, so the details are realistic and the setting evocative. The cast of characters is eclectic - Victor's Japanese business partner and father figure, and his very much put-upon shop assistant, form the 'family' of booksellers - but only roughly sketched; hopefully these will be 'fleshed out' beyond names and traits in the later sequels. And Tasha, Victor's love interest, is rather cliched - a red-headed Russian artist, savouring independence and personal freedom. Still, a very enjoyable mystery, with 'fin de siecle' Paris brought vividly to life (would have liked a map, though!)
Review by davidt8
16/06/2015
One measure of a murder mystery is whether the reader can guess who the murderer is before the author reveals the truth and explains the facts. By that measure, this mystery worked for me. Misdirection fooled me, but apparently it didn't fool other reviewers.Some of the pleasure of historical murder mysteries lies in the historical background and the sense of place. Brother Cadfael in Shrewsbury in the 12th Century or Marcus Didius Falco in Rome in the 1st Century is appealing because the reader knows the time and place, with background and details being supplied by the authors. If the reader doesn't know the background, there is always Wikipedia to supply information. In this book, set in the late 19th Century in Paris, there are references to Frenchmen that I have never heard of, like General Boulanger, and artists that almost everyone knows, like Van Gogh. There are plenty of famous French authors, too, since the protagonist and his partner are booksellers, plus some obscure ones. There is a lot of grist for the search engine mill, for those readers who really want to know. Perhaps because I know far more British or ancient Roman history than French history of this period, I didn't put much effort into learning more.For me, there are more appealing murder mysteries than this one, although maybe subsequent books in the series will be better than the first one. The translation could be better, too. Too much was left in French, and some British words were obscure to me, even though I read a lot of British fiction. Historical mystery readers might well look elsewhere for more enjoyable books.
Review by rdjanssen
16/06/2015
Murder on the Eiffel Tower was described to me as being to the World Exposition in Paris, France as Devil in the White City was to the World's Columbian Exposition in Chicago, USA. Unfortunately, the only similarity between the two books is being set at World's Fairs.There was no grand description of what the World's Fair was like and how much time, effort and money it took to set it up and host the event. These historical and interesting tidbits were summed up in three pages as a historical footnote. The setting at the World Exposition was only marginally important and could quite possibly have been set at any time.The murder mystery aspect was somewhat nonsensational. Not being a mystery fan I cannot comment to strongly on its caliber as a mystery. However, it did appear to have more emphasis on means rather than motive when the murder mystery was being investigated. This may be a flaw as it led me to deduce who the murder was roughly 200 pages into the book. It was a quick, refreshing read, nonetheless.If one is looking for a vivid description of the World Exposition in Paris, France in 1889 this is not the book to read; the reader will be sorely disappointed. As a historical mystery story there may be something here for you. I would recommend anything by Harold Schechter with Edgar Alan Poe as the sleuth over this book for good 19th century murder mystery.
Review by TheFlamingoReads
16/06/2015
The Eiffel Tower has just opened and thousands of Parisians and other tourists are crowding the upper level to get a glimpse of Paris and sign "The Golden Book" to become a part of history. One visitor is Eugenie Patinot and her niece and two nephews. Eugenie is hot, tired, and agitated, but she feels she must earn her keep while living with her sister by taking care of the children for the day. While resting on a bench she suddenly feels a sting on her neck. She falls to the ground and, within minutes, she is dead.So begins 'Murder on the Eiffel Tower". The historical aspects of the novel ring true, however, as a 'whodunnit', it fails on a couple of levels. For instance, within the first 16 pages we are introduced to no less than 14 different characters, five of whom work at a newspaper whose editor is trying to entice Victor Legris into writing for them. That many characters is confusing, especially since they all return at different points in the book as suspects and/or witnesses. And if that wasn't enough, we are introduced to at least a dozen or so more who just manage to muddy up the story, provoke Victor's raging jealousy, and/or end up dead.Victor Legris, a bookseller and amateur writer and sleuth, begins to see a pattern in the "bee sting" deaths of Euguenie and others, but can't put all the pieces together. Perhaps he is too busy trying to figure out how to get Tasha, a member of the newspaper staff, into bed. He makes himself ill chasing down one "clue" after another, but none of them make sense. It's not until the middle of the book that we begin to discover what these clues are and who they pertain to, but by this time there is so much else going on that it may not matter. The motive for the murders is explained in a posthumous confession, but it seems to be mostly feeble and senseless. The characters are barely on the verge of being interesting themselves. What really shines here is the city of Paris itself. The "author" (really two sisters who own a bookshop and are 'experts' on 19th century Paris) do a wonderful job of describing the times and cityscape. The translator has also done a wonderful job because it is a very easy read and not the usual stilted language often found in translations. Too bad the crime, perpetrator, suspects, and sleuths don't rise to the same level.
Review by ClifSven
16/06/2015
Normally, I like mysteries. This one, however, couldn't hold my interest at all. I couldn't even finish it. The characters didn't "come alive" for me and the plot was only minimally interesting.