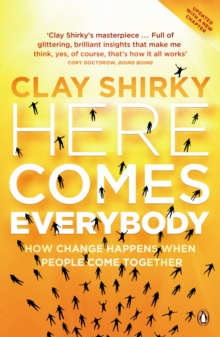 Here Comes Everybody : How Change Happens When People Come Together
Paperback
Description
Clay Shirky's international bestseller Here Comes Everybody: How Change Happens When People Come Together explores how the unifying power of the internet is changing the character of human society.
Welcome to the new future of involvement. Forming groups is easier than it's ever been: unpaid volunteers build Wikipedia together in their spare time, mistreated customers can join forces to get their revenge on airlines and high street banks, and one man with a laptop can raise an army to help recover a stolen phone.
The results of this new world of easy collaboration can be both good (young people defying an oppressive government with a guerrilla ice-cream eating protest) and bad (girls sharing advice for staying dangerously skinny) but it's here and, as Clay Shirky shows, it's affecting...well, everybody.
For the first time, we have the tools to make group action truly a reality. And they're going to change our whole world. 'As crisply argued and as enlightening a book about the internet as has been written' Daily Telegraph 'As usable as the technology he writes about' Independent 'Clay Shirky's masterpiece ...glittering, brilliant insights that make me think, yes, of course, that's how it all works' Cory Doctorow, co-editor of Boing Boing 'Anyone interested in the vitality and influence of groups of human beings - from knitting circles, to political movements, to multinational corporations - needs to read this book' Steven Johnson, author of Everything Bad is Good for You and Emergence Clay Shirky writes, teaches, and consults on the social and economic effects of the internet. A professor at NYU's Interactive Telecommunications Program, he has consulted for Nokia, Procter and Gamble, News Corp., the BBC, the US Navy, and Lego.
Over the years, his writings have appeared in The New York Times, the Wall Street Journal, the Harvard Business Review, Wired, and IEEE Computer.
Information
Format: Paperback
Pages: 352 pages, 8-10
Publisher: Penguin Books Ltd
Publication Date: 29/01/2009
Category: Popular psychology
ISBN: 9780141030623
Free Home Delivery
on all orders
Pick up orders
from local bookshops
Reviews
Showing 1 - 2 of 2 reviews.
Review by LyzzyBee
16/06/2015
19 Oct 2009 - Amazon (I had a lot of Amazon vouchers from the previous Xmas/Bday to spend!)Apparently this book is quite controversial - I haven't looked at any reviews up to now as I don't want to influence this one.Shirky does seem to spend a fairly substantial book telling us that new technology has given us new ways to form new types of - and larger - groups, which in turn is starting to change the way people interact with each other and with traditional organisations such as corporations and governments. He gives lots of examples, for instance students getting together on Facebook to complain against HSBC's treatment of their overdrafts, and the huge amount of information which poured out of China after the recent earthquakes, as examples of the latter, and services such as Flickr and Wikipedia, which allow the pooling of information and images without traditional management. The author does rely on other people's research a fair bit, weaving in current luminaries such as Malcolm Gladwell and the people looking at six degrees of separation. But then little research is completely new and it does ground the work into other people's systems. It's really good on the history and actual workings of phenomena such as Meet Up (this section mentions BookCrossing!) and Wikipedia, and I think this is what actually gives the book its main worth to me, as a document of the times we're living in now, quite a few technologies and groups with which I interact, rather than as a ground-breaking work with a lot of new information in it.Right - now I'll go and see what the controversy was about!
Review by simbacat
16/06/2015
A good analysis of the connection between people networks and networking tools etc and the power they unleash when they come together.