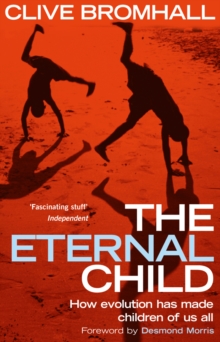 The Eternal Child
Paperback
Description
Clive Bromhall's ground-breaking book is the story of a single evolutionary process which has shaped the human species.
The process, known as 'neoteny', has been massively underestimated by scientists until now.
It explains everything from our hairless skin to our upright stance and, argues Bromhall, unlocks the key to human nature and to the future of homo sapiens.
The human species, says Bromhall - radically but convincingly - has anatomically and behaviourally regressed into a state of permanent childhood.
Humans are not in fact mature primates, but rather over-grown baby apes.
In essence, in order to survive in our environment, in order to create a social species and allow our brains to develop, our species has been completely 'infantised'.
With this key Clive Bromhall proceeds to unlock many of the mysteries of human behaviour and forces us to reassess our thinking on human nature, and the power of the child within.
The result of years of research, The Eternal Child is thought-provoking and highly readable and will explain mysteries such as why some of us are homosexual, the differences between races, the need for religion and the dynamic of male/female relationships.
Information
Format: Paperback
Pages: 352 pages
Publisher: Ebury Publishing
Publication Date: 01/01/2004
Category: Popular science
ISBN: 9780091894429
Free Home Delivery
on all orders
Pick up orders
from local bookshops
Reviews
Showing 1 - 1 of 1 reviews.
Review by Miro
16/06/2015
If a new theory fits the evidence and provides answers to a wide range of puzzling observations then science is taking a big step forward. Charles Darwin's "Origin of Species" fits into this category and very surprisingly Clive Bromhall's "The Eternal Child" also seems to achieve the same very rare success.His original intention was to write about the evolution of homosexuality. As he says, "Having been raised in the era of the Selfish Gene - in which every feature of an animal's biology is seen as benefiting the genes in some way - homosexuality seemed to fly in the face of logic. How could a behaviour possibly exist that hindered an individuals chance of having babies? And so the hunt began for the origin of this extraordinary behaviour.""It was however one of those journeys that was to lead to some extraordinary places........" His book finally provides a straightforward explanation for such varied things as hair on our heads, two legged walking, peaceful coexistence in great cities, love, monogamy, physical and societal differences between Asians and Europeans and homosexuality among much else. I think that he underrates the emergence of language (and overrates sexual selection) in our 100.000 year old ancestors but this is a really an astonishingly productive new theory of human evolution.He shows that we have been sidetracked by the obvious logic of trying to fit physical human form to function when the real adaption was the behavioural one of maintaining childlike dependence and learning throughout "adult" life. Maintenance of the child state incidentally involved retaining inconvenient physical characteristics present in the womb, such a hairlessness, bulbous head, delicate bones etc. but in evolutionary terms it was a price worth paying. The all important behavioral advantages allowed our ancestors to survive rapid environmental change in large interdependent, flexible and relatively peaceful groups functioning as single units.