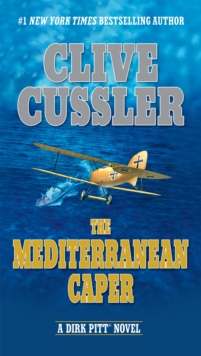 The Mediterranean Caper
Paperback
Information
Format: Paperback
Publisher: Penguin Putnam Inc
Publication Date: 06/04/2004
Category: Espionage & spy thriller
ISBN: 9780425197394
Free Home Delivery
on all orders
Pick up orders
from local bookshops
Reviews
Showing 1 - 5 of 10 reviews.
Previous | Next
Review by trekbody
16/06/2015
A poor start to a great series that eventually derails.
Review by MsBeautiful
16/06/2015
Adventure/Thriller, Fun to listen to on tape or cd
Review by MrsLee
16/06/2015
Ugh. Waste of time. I enjoyed the movie, Sahara, for it's good, clean fun and since Clive Cussler wrote the book, I thought perhaps I would enjoy his books. Wrong! First of all, the emotional responses of the characters don't ring true. They are all over the map for no reason at all. The dialogue is not clever when it is meant to be and not subtle when it should be. The adventure was O.K., but the characters as I say, were bizarre and didn't ring true to the task set before them. On top of all that, the author comes across as sexist (I've cleaned that up from my review at home). His view of women, if the characters in his book are anything to go by, is that they are a meat market good for one purpose only. It's not that he wrote a lot of sex into the book, it's just the way he speaks of it and women is so far away from the godly, lovely event that sex is, that it makes me sick. Guess I'll stick to the movie. It was far better.
Review by ct.bergeron
16/06/2015
On a quiet greek Island, an US Air force base has come attack by a World War I fighter plane. Now it's up to Dirk Pitt to root out the elusive truth behind the attack - and find out how it's connected to mysterious acts of sabotage against a scientific expedition, an international smuggling ring, and a dark-haired beauty with some dangerous secrets...
Review by librarymeg
16/06/2015
The Mediterranean Caper is the kind of book that will appeal to people who are looking for adventure, and a lot of it. The main character, Dirk Pitt, is the kind of self-assured, no-nonsense, take-charge hero that you expect to find in old-Hollywood war movies or James Bond films. The plot gets very complex at times, and so is hard to describe, but here goes: Major Dirk Pitt's services are requested at a scientific research vessel in Greece that's been experiencing acts of sabotage. While Pitt is flying in to visit the vessel, he stumbles across an attack on a U.S. Air Force Base by, of all unlikely things, a World War II biplane. Soon after, he meets the seductive niece of the German shipping guru who promptly tries to murder Pitt. Suffice it to say that these events are all connected. The mystery is in how they're connected, and how Dirk Pitt will survive his investigation. If you're looking for sympathetic, vibrant characters, this is probably not the book for you. The emphasis here is on thrilling action topped with adrenaline served up in the exotic location of the Greek Isles.