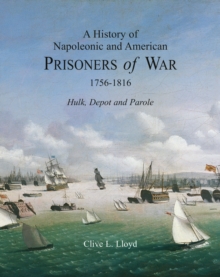 History of Napoleonic and American and Prisoners of War 1756-1816, a : Hulk, Depot and Parole
Hardback
Description
Whilst many books have been published about war, the role of the prisoner of war has been largely ignored or paid scant attention.
This book, along with the author's other title - The Arts and Crafts of Napoleonic and American Prisoners of War 1756-1816 - aims to correct this imbalance, and is the result of the author's quest over thirty years into this almost-forgotten field of history.
Part One tells of the various wars that saw the men, from many different countries, become prisoners.
Tales of individuals and their voyages, mutinies, fortunes and failures also feature, adding more personal touches to the history and, as with the author's other title, all the accounts are written in a highly evocative style.
Part Two is largely devoted to the prison hulks, describing the vessels and the conditions on board that the prisoners would have had to endure.
Many of these hulks were former warships. Now stripped of all their equipment, and with their masts, sails and rigging removed, they sat disabled
Information
Format:Hardback
Pages:378 pages, 226col `5b&w
Publisher:ACC Art Books
Publication Date:25/05/2006
Category:
ISBN:9781851495283