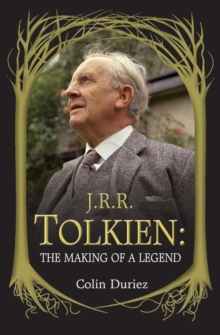 J. R. R. Tolkien : The Making of a Legend
Paperback
Description
Long before the successful The Lord of the Rings films, J.R.R.
Tolkien's creations, imagination, and characters had captured the attention of millions of readers.
But who was the man who dreamt up the intricate languages and perfectly crafted world of Middle-earth?
Tolkien had a difficult life, for many years: orphaned and poor, his guardian forbad him to communicate with the woman he had fallen in love with, and he went through the horrors of the First World War.
An intensely private and brilliant scholar, he spent over fifty years working on the languages, history, peoples and geography of Middle-earth, with a consistent mythology and body of legends inspired by a formidable knowledge of early northern European history and culture.
J.R.R. Tolkien became a legend by creating an imaginary world that has enthralled and delighted generations. This delightful and accessible biography brings him to life.
Information
Format: Paperback
Pages: 192 pages
Publisher: Lion Hudson Plc
Publication Date: 19/10/2012
Category: Biography: literary
ISBN: 9780745955148
Free Home Delivery
on all orders
Pick up orders
from local bookshops
Reviews
Showing 1 - 4 of 4 reviews.
Review by TheLoopyLibrarian
16/06/2015
Although, I have been a fan of The Hobbit and The Lord of the Rings for years, I knew very little about the author behind these magical works. More has been written about J.R.R. Tolkien than by him. He has been studied by scholars and critics for generations. Tolkien is enigmatic and complex, as is his work. For those reasons and a myriad of others, I was so pleased to be introduced to this Tolkien biography by Colin Duriez. In the forward, Doriez writes, "Though my book is not intended for scholars but for ordinary readers wishing to explore the life of Tolkien and how it relates to the stories of Middle-earth, the wisdom from those (other authors) I've mentioned, and many others, is a necessary background (p. 9-10)."With even a most tertiary look into the background of Colin Duriez, it becomes quite clear that as an academic, a professor, and a writer, he has made it his life's work to study the works of Tolkien. He appears to have read nearly every work ever written by or about Tolkien, which made it all the more remarkable that he was able to condense his intensive years of study into a book for the ordinary reader.In J.R.R. Tolkien: The Making of a Legend, Duriez focuses on the lonely, orphaned boy who was fascinated with languages and fantasy. Though not antisocial by any means, he definitely lived an active life inside his head. In Duriez's book, the reader also learns of the horrible losses and emotional toil that he endured as a soldier in WWI. His marriage to his first love, after years of separation, is endearing as is his love for his children. Despite his devotion to academia, he was a family man at heart. The land of Middle-Earth, as it turns out, is a land that Tolkien had invented early in his youth, and it was his love of languages and study of them (philology), that lead him to create this enchanted world. He shared the stories with his children and eventually developed a manuscript that he shared with his good friend and colleague, C.S.Lewis. Lewis said, "In reading great literature I become a thousand men and yet remain myself. Like the night sky in the Greek poem, I see with a myriad eyes, but it is still I who see. Here, as in worship, in love, in moral action, and in knowing, I transcend myself, and am never more myself than when I do (p. 54).Lewis quickly became one of Tolkien's biggest fans and encourages him to publish his work. Like generations of fans afterward, Lewis fell in love with the Hobbit of Middle Earth and the stories that followed. It may have been Tolkien's love of languages that led him to write these epic novels, but for most readers, it is the characters, the fantasy, the heroism, the story itself that captures the imagination.For an introduction to J.R.R. Tolkien, a fascinating man who lead an extraordinary life both inside and outside of his head, I highly recommend this book. If you are already a Tolkien scholar, you probably won't gain much from this particular biography. For the average reader, however, it is perfect!In compliance with FTC guidelines, please note that I received a free review copy from Kregel Blog Tours in return for an honest review.
Review by tiinaj1
16/06/2015
I've always been interested in how a book or a series of books like Lord of the Rings & The Hobbit come to be written. How does one take an idea (an inkling really) and turn it into a story that will catch the imaginations of millions over the years & around the world?What you'll find in this biography is a book spanning the long life of J.R.R. Tolkien and the experiences that he lived through that helped him form the events within the book. From growing up & being raised by the Catholic Church, tinkering with the child's play of forming languages to actually learning how languages are formed, traveling to Finland and other countries which gave him the ability to describe the sweeping vistas he wrote of in his books to participating in World War II and the horrors he saw and lived through on a daily basis for years thus giving him the ability to write about the many varied wars & battles in his books - you will find out what made Tolkein "tick".Tolkein was a man gifted with the ability to take what he saw, felt and lived through and describe it to the average man whether learned or not. He was a loving husband, father and a strong friend to have backing you up - and it also sounds like he was a "brilliant" thinker (Eistein type brilliant) and had the ability to make the English, Welsh and the Ancient forms of writing and language understandable to his students (at least those that wanted to understand).If you are a FAN of LOTR's, The Hobbit and any of the several Appendices that he wrote, or perhaps are a fan of poetry (of which he was very gifted) be sure to grab a copy of JRR Tolkien: The Making of a Legend.Disclaimer: I was offered a copy of JRR Tolkien: The Making of a Legend to read and review on GivingNSharing by Kregel Publications. I was not required to write a positive review & no money exchanged hands.
Review by alekee
16/06/2015
John Ronald Reuel Tolkien, know as J. R. R. was born on 3 January 1892, in Southern Africa. He was the first son of Arthur and Mabel, and was joined by a brother Hilary on 17 February 1894.Both boys had a had sad beginning, loosing their Dad in 1896, and their Mom to Diabetes, there was no treatment. They became the wards of a priest, and soon lived with a woman who gave them room and board...that is it. How sad, and yet each point of his life shows the rich mind he possessed, and later shows up in bits and pieces in his writings.Love the reference to Hobbit, that came from his travels to Interlaken in Switzerland. What a mind he had, and was able to share with the World. He had in his lifetime become friends with C. S. Lewis, a former Atheist who came to know the Lord many think because of Tolkien.He fell in love with Edith as a child, and later pursues her as a young man. I personally enjoyed this story, and bringing this man to life in my mind. He started out with such a harsh life, but the talent of this man is legendary.Enjoy!I received this book from Kregel, and was not required to give a positive review.
Review by AmandaWrites
16/06/2015
They say, write what you know.<br/>But what if you happen to write about things like Orcs, Hobbits, and Elves? Do you really know this enough to write about it? In a way, yes, JRR Tolkien did write what he knew. Or, more like it, the way he saw the world. Overcoming tremendous odds, he gave us some of the best loved stories that still thrive today.<br/><br/>When you read this book, you're getting an intimate peek inside a complex individual that was molded by his fair share of life, death, loss, and love. Be prepared for emotional turmoil that followed him thru his life. Cheer for him when he finds his one true love, and pity him when he ultimately sets aside that love because of the wishes of another. <br/><br/>Not only will you meet the man behind the Hobbit, but the story of JRR Tolkien's perseverance through hardships will inspire you when you thought your hope was gone.<br/><br/>JRR Tolkien had a gift. He was a romantic. I know. Many a man would shudder to be labeled a romantic, but he saw life differently than most. When the regular person would see only an ordinary tower, JRR saw not a normal tower, but a different time and place with evil and good, fighting against one another and that tower, a pinnacle that holds it all in the balance.<br/><br/>Conjuring stories and poems on a whim, he was an immensely gifted man. A creator not only of worlds and words, but of entire languages. <br/><br/>But why would he desire to write such stories as The Hobbit? To reignite a love for fairy tales to a new readership. <br/><br/>He has succeeded in this and his stories live on and will continue to do so for generations of romantics to come.