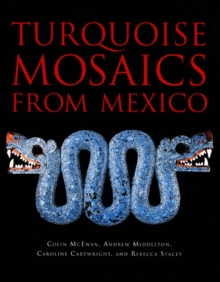 Turquoise Mosaics from Mexico
Paperback / softback
Description
The nine turquoise mosaics from Mexico are some the most striking pieces in the collections of the British Museum.
Among the few surviving such artifacts, these exquisite objects include two masks, a shield, a knife, a helmet, a double-headed serpent, a mosaic on a human skull, a jaguar, and an animal head.
They all originate from the Mixtec and Aztec civilizations first encountered by Europeans during the Spanish conquest in the early sixteenth century.
The mosaics have long excited admiration for their masterful blend of technical skill and artistry and fascination regarding their association with ritual and ceremony.
Only recently though, have scientific investigations undertaken by the British Museum dramatically advanced knowledge of the mosaics by characterizing, for the first time, the variety of natural materials that were used to create them.
Illustrated with more than 160 color images, this book describes the recent scientific findings about the mosaics in detail, revealing them to be rich repositories of information about ancient Mexico.
The materials used to construct the mosaics demonstrate their makers' deep knowledge of the natural world and its resources.
The effort that would have been involved in procuring the materials testifies to the mosaics' value and significance in a society imbued with myths and religious beliefs.
The British Museum's analyses have provided evidence of the way that the materials were prepared and assembled, the tools used, and the choices that were made by artisans.
In addition, by drawing on historical accounts including early codices, as well as recent archaeological discoveries, specialists have learned more about the place of the mosaics in ancient Mexican culture.
Filled with information about the religion, art, and natural and cultural history as well as the extraordinary ability of modern science to enable detailed insight into past eras, Turquoise Mosaics from Mexico offers an overview of the production, utilization, and eventual fate of these beautiful and mysterious objects.
Information
Format: Paperback / softback
Pages: 96 pages, 162 color photos, 1 map
Publisher: Duke University Press
Publication Date: 15/11/2006
Category: Colonial art
ISBN: 9780822339243
Free Home Delivery
on all orders
Pick up orders
from local bookshops